Red Lion G3 Series HMIS Add Touch-Screen Display Operation to All Banner Presenceplus® Vision Sensors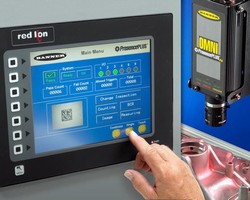 YORK, PA-September 11, 2006-Red Lion Controls, Inc. announces full support of Banner Engineering's PresencePLUS® vision sensors via their G3 Series of touch screen HMIs. As a result of a joint development, the Red Lion G3 Series HMIs can now conveniently allow a machine operator to deliver specific vision sensor controls while seeing exact images of the entire sensing area on the G3's bright display.

"A number of built-in features make the G3 Series ideal for integration into a wide variety of vision sensing applications using Banner vision sensors," said Jesse Benefiel, Interface & Control Product Manager for Red Lion. "Because the G3 offers all the necessary tools built directly into the interface, operation and system-wide integration of Banner's cameras is much more convenient all via a single Ethernet connection." Benefiel added, "Sensor positioning as well as inspection file transfer for varying batches or product control can now be done without a PC."

"The G3 touch screens can deliver many practical PresencePLUS sensor controls and feedback to a machine operator," said Jeff Schmitz, Corporate Business Manager for Banner Vision Sensors. "A machine designer can configure a G3 for specific sensor operations such as switching inspection files for different product batches, archiving and running additional inspections, uploading barcode data and displaying images of failed product."

The G3 Series features a built-in image driver that allows the integration of multiple Banner vision sensors; the G3 supports Banner's full line of PresencePLUS sensors.

With its multiple-protocol Ethernet port, the G3 can connect to the vision sensor, as well as to PLCs and PCs simultaneously.

The Data Logger logs data at user-programmable rates with the date and time automatically recorded. A removable CompactFlash® memory card stores data into "IT-ready" CSV files that are compatible with standard office applications such as Microsoft® Excel® and can be downloaded remotely or synchronized with an FTP server. With the G3's inspection file transfer capability, users are able to upload or download any inspection file they choose from the CompactFlash card to the PresencePLUS sensor.

The G3's Web Server provides a virtual HMI that can be accessed remotely from any standard web-browser. For added flexibility the G3 can be configured to serve custom HTML pages made with the HTML editor.

G3 models come with 3 serial ports as standard or up to 5 with the optional expansion card. A built-in Ethernet port is also included and capable of running up to 4 protocols. The G3 also converts multiple protocols simultaneously with its built-in protocol converter-allowing seamless device communication-and easily transforms sensor information to a PLC or another controller, avoiding complex communication programming.

The advanced Security Logger provides multi-user, multi-level password protection and also tracks operator actions and data changes. The Alarm Viewer records any faults or events that may occur, all available on the Compact Flash card in CSV format.

Users can easily design and test their application using the G3's Emulator and choose from over 4000 professional quality graphics to add to the display page for the most realistic HMI display available.

To learn more about the entire range of G3 Series HMIs, visit www.redlion.net or banneng.com

To learn more about Banner's PresencePLUS vision sensors, visit www.bannerengineering.com

Red Lion Controls, Inc. is a leading manufacturer of industrial control solutions worldwide. Products include digital/analog control, monitoring and panel meters, PID control, human-machine interface panels, and signal conditioning.

For more information, or to find the Red Lion distributor nearest you, go to www.redlion.net, or contact:
Red Lion Controls, Inc.
20 Willow Springs Circle, York, PA 17402
(717) 767-6511.