Recycling System provides fully automated operation.
Press Release Summary: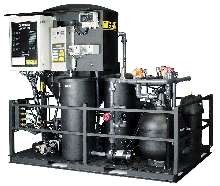 Self-contained Model CLP-5024 wash-water recycling system automatically backwashes filters, polishes standing water during night, and dumps collected solids that build up on regular cycle. It operates at flow rates up to 10 gpm, and features multi-media blend with 275 lb of gravel, garnet, sand and anthracite, which removes solids down to 30 microns. System is controlled by digital sequencer and can be programmed for customized process times.
---
Original Press Release:

Landa Introduces Extra-Compact, Automated Wash-Water Recycling System


Landa, North America's largest manufacturer of industrial pressure washers and water cleaning systems, has introduced an extra-compact, fully automated, wash-water recycling system ideal for conserving water and protecting property against liability and fines.

Using Landa's exclusive Automated Maintenance Control (AMC) system, the CLP-5024 automatically backwashes filters, polishes standing water during the night, and dumps collected solids that buildup on a regular cycle. The automated feature makes the system virtually maintenance-free.

The self-contained system operates at flow rates of up to 10 gallons per minute (GPM), and features a new multi-media blend with 275 lbs. of gravel, garnet, sand and anthracite which removes solids in the wastestream as small as 30 microns.

The total system requires a footprint of only 56-by-61 inches.

The system is controlled by a digital sequencer and can be programmed for customized process times. It also features manual override to these automated operations:

o Both the multi-media and activated carbon filters are backwashed at programmed times to optimize the treatment process;
o Valves are opened and closed automatically each night to create a two-stage recirculation of standing water in the tanks and collection pit, injecting ozone and polishing the water with each pass;
o Solids are dumped once a day--or more often, if needed--from the 300-gallon, clarifying, cone-bottom tank and deposited into a sludge tub and burlap bag where the water drains off leaving the solids to dry.
Among the features are:o A system that is self-contained on an epoxy, powder-coated, steel platform, making installation remarkably simple and quick;
o A raised, solids separation and clarification tank for above-ground handling of light-to-medium dirt loads in a wash operation, thus reducing the risk of undetected leaks and minimizing the need for below-ground pits;
o Above-ground, steep-pitch sludge disposal for user-friendly handling of solid residue;
o A first stage filter of 275 lbs. of multi-media of gravel, sand, garnet and anthracite, which remove particulate down to 30 microns;
o A second-stage filter of 200 lbs. of degassed, virgin, activated carbon that through adsorption removes pesticides, solvents, benzene, diesel fuels, acetone, and other hydrocarbons;
o Optional cartridge filters which are available to remove particulate down to 5 microns;
o Top-of-the-line, timer-controlled ozonator injects bacteria- and odor-killing ozone into the waste stream in a manner that ensures up to 99% contact;
o User friendly operation, including mode indicator lights, pump peration lights and an emergency stop switch;
o A unique, steep-pitched, cone-shaped coalescing pack in the clarifier tank for optimum separation of oil and solids from the wastewater; and
o A digital-controlled chemical monitoring and injection system for introducing polymers and other chemicals to further enhance the CLP's cleaning capabilities, as well as maintaining proper pH and ORP levels.

Landa CLP systems are most commonly used in high-pressure washing operations where there is a high level of oil, dirt, and other solids in the wash water, such as truck and equipment maintenance shops, rental yards, solid-waste hauling facilities, heavy equipment wash sites, golf course wash stations, and even manufacturing operations.

Companies that use a pressure washer to clean equipment, vehicles or facilities are coming under increased pressure to recycle their wash waster, rather than put it down the drain or onto the ground, due to drought conditions or sewer discharge regulations.

Landa Water Cleaning Systems has been a leader in the cleaning equipment industry since 1969. In 1989, Landa became the first pressure washer manufacturer to develop wash-water treatment systems. Today, more than 4,000 such systems have been installed around the world.

For more details, contact Crismon Lewis, 1-800-547-8672 Ext. 175.

More from Machinery & Machining Tools