Rectangular Valve Connector has 26 mm profile.
Press Release Summary: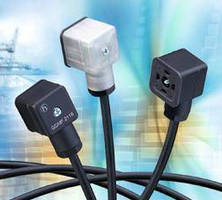 Incorporating Hirschmann(TM) combi contact technology, field-attachable GDMF connector suits wide range of cable gauges up to 1.5 mm² with OD from 4.5-8 mm. It has captive seal, non-slip surfaces on both sides for quick assembly/disassembly, and comes with or without electronic insert with 3 or 4 contacts (2+PE or 3+PE). Offered with IP 65/67 protection, compact connector is resistant to vibration and jarring and can operates in -25 to +90°C temperatures.
---
Original Press Release:

Low-Height Space-Saving Connector with Proven Combi-Contact



The Hirschmann(TM) GDMF is a new generation of valve connectors with an extremely flat design. This meets the ever growing demand for highly compact rectangular connectors.

The field attachable GDMF valve connector combines the proven Hirschmann(TM) technology with an extremely flat and ergonomic design. With a height of just 26 mm, the rectangular connector in protection class IP 65/67 has a perfect fit in any given application. A captive seal and non-slip surfaces on both sides provide for ease of assembly and disassembly.

The new compact design features the patented combi contact, known from the proven GDM series and laid out for a wide range of cable gauges up to 1.5 mm² with outer diameters from 4.5 to 8 mm (in a UL approved version from 4.0 to 6.7 mm). Further product characteristics of the new GDMF valve connector include ultimate resistance to vibration and jarring. The product is available with or without electronic insert with three or four contacts (2+PE or 3+PE). In addition, the standard versions can be used within a temperature range from -25 to +90 degrees Celsius. Special versions for applications operating at temperatures between -40 and +125 degrees Celsius are available upon request.

The Hirschmann(TM) GDMF valve connector from Belden is compatible with all device connectors according to EN 175301-803, type A. The series also includes a version with integrated strain relief that already meets the requirements of the new UL specification 2238. This and further approvals, such as VDE and CSA, permit the GDMF valve connector to be used in applications worldwide.

About Belden

Belden designs, manufactures and markets signal transmission solutions, including cables, connectors and I/O modules as well as network devices and control, load sensing and load moment limitation systems designed for safety-critical applications ranging from industrial automation to data centers, broadcast studios and the aviation and aerospace industry. The company focuses on segments of the worldwide cable and automation markets that require both highly specialized and readily available products. With manufacturing facilities in North America, Europe and Asia, Belden has recorded a total revenue of USD 2 billion for the fiscal year 2008.

Together with its brands Hirschmann(TM) and Lumberg Automation(TM), Belden offers an extensive and highly specialized product portfolio covering the full range of data communications - from the information and control levels down to the field level. The company has more than 15 offices throughout Europe, the Middle East and Africa, with manufacturing facilities in Czech Republic, Germany, the Netherlands, UK, Denmark, Italy and Hungary.

For more information about Belden, please visit www.belden-emea.com or email inet-sales@belden.com.

Related