Reconfigurable Radio Solutions enable efficient spectrum sensing.
Press Release Summary: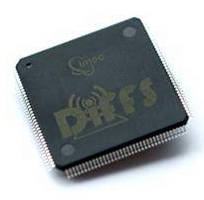 Digital front-end component for spectrum sensing hosts dedicated ASIP (application-specific integrated processor) that can perform flexible synchronization and spectrum sensing for WLAN (802.11a-n), cellular standards (including 3GPP-LTE), and digital broadcasting standards. It connects to imec analog reconfigurable radio chip (SCALDIO) and programmable digital baseband platform for 4G seamless connectivity (COBRA). Solutions enable multimode communication with efficient use of spectrum.
---
Original Press Release:

Imec Reports Reconfigurable Radio Solutions Enabling Low-power Spectrum Sensing and Low Cost



Barcelona (Spain) - Imec presents a digital front-end component for low-cost and low-power spectrum sensing, paving the way to power-efficient cognitive radios and networks. The new results support industry's search for increased flexibility and reliability for their next-generation wireless devices.

The accelerated deployment of broadband personal communication coupled with the continuously increasing demand for large data rates results in an increasing spectrum scarcity. A dynamic access to the available spectrum would increase the throughput efficiency significantly. In licensed bands scenarios, dynamic spectrum access would for example allow personal mobile terminals to seamlessly set-up and maintain a reliable wireless connection. In unlicensed bands (e.g. the crowded 2.4 GHz band), it would bring great added value to products for which interruptions in the connectivity cannot be tolerated, for safety reasons in a control system (e.g. surveillance camera's), or for comfort reasons in real-time applications (wireless conferencing, hearing aids,...) as it would improve connectivity even in the presence of many competing and interfering networks.

However, current radio architectures are focused on the reception of a predefined channel, and cannot proceed to a frequency scan operation in a timely, cost- and energy-effective way. Imec's cognitive reconfigurable radio solutions hold the solution for such next-generation flexible radios, as they enable multi-mode communication and spectrum sensing.

Imec's new spectrum sensing component was designed as a versatile digital engine to meet a wide variety of use cases, at low cost and low power overhead. The chip, which hosts a dedicated ASIP (application-specific integrated processor), can perform both flexible synchronization and spectrum sensing for high-throughput WLAN (802.11a-n), cellular standards (including the recent 3GPP-LTE), and digital broadcasting standards.

The novel spectrum sensing component connects to imec's in-house designed analog reconfigurable radio chip (SCALDIO) and imec's programmable digital baseband platform conceived for 4G seamless connectivity (COBRA). As such, imec's complete reconfigurable radio solutions enable multimode communication with efficient use of the spectrum.

Imec cooperates with K.U.Leuven and Vrije Universiteit Brussel in the project 'Essences', funded by the Flemish government agency for Innovation by Science and Technology, IWT, to conceive even lower power solutions for the future. The strategic basic research project also investigates the possible or desirable sensing capabilities from a business and regulatory point of view. Together with the protocol specialists from Ghent University, the improvements spectrum sensing can bring on the network level are researched within the strategic project 'Next Generation Networks and Terminals' and test-lab from the Flemish Interdisciplinary Institute for Broadband Technology, IBBT. Moreover, imec is dedicated to boost the valorization potential of its sensing technology by teaming up with companies in Flanders that are developing high-tech wireless products.

"We are proud to announce these great results, which have been made possible thanks to the support of IWT and the cooperation with our research partners in Flanders. The relevance of these results is witnessed by the fact that several companies are already investigating the use of these spectrum sensing solutions to increase the quality and reliability of a wide variety of wireless applications," said Liesbet Van der Perre, director green radio programs at imec.

About imec
Imec performs world-leading research in nanoelectronics. Imec leverages its scientific knowledge with the innovative power of its global partnerships in ICT, healthcare and energy. Imec delivers industry-relevant technology solutions. In a unique high-tech environment, its international top talent is committed to providing the building blocks for a better life in a sustainable society. Imec is headquartered in Leuven, Belgium, and has offices in Belgium, the Netherlands, Taiwan, US, China and Japan. Its staff of more than 1,750 people includes over 550 industrial residents and guest researchers. In 2009, imec's revenue (P&L) was 275 million euro. Further information on imec can be found at www.imec.be.

NOTE: Imec is a registered trademark for the activities of IMEC International (a legal entity set up under Belgian law as a "stichting van openbaar nut"), imec Belgium (IMEC vzw supported by the Flemish Government), imec the Netherlands (Stichting IMEC Nederland, part of Holst Centre which is supported by the Dutch Government), imec Taiwan (IMEC Taiwan Co.) and imec China (IMEC Microelectronics (Shangai) Co. Ltd.).


More from Laboratory and Research Supplies and Equipment