Reclosers offer vacuum interruption and DA capabilities.
Press Release Summary: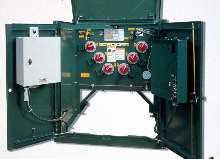 Kyle® PWE and PWVE pad-mounted, 3-phase, automatic circuit reclosers provide overcurrent protection for distribution systems that use underground cable. Offered with microprocessor controls, products suit 15 and 27 kV systems that include overhead and underground construction on one feeder. PWE types protect 3-phase systems rated 2.4-14.4 kV, and PWVE types can be applied to systems rated through 24.9 kV.
---
Original Press Release:
Three-Phase Pad-Mounted Reclosers Feature Vacuum Interruption, Microprocessor Controls and DA Capabilities
South Milwaukee, WI, August 15, 2003 - Cooper Power Systems' Kyle® type PWE and PWVE pad-mounted three-phase automatic circuit reclosers provide reliable and economical overcurrent protection for distribution systems utilizing underground cable. Microprocessor controls, vacuum interruption, distribution automation capabilities are among the product features that help end-users improve system reliability. PWE and PWVE reclosers are designed for 15 and 27kV systems that include a combination of both overhead and underground construction on one feeder. PWE reclosers protect three-phase systems rated 2.4 - 14.4kV. PWVE reclosers can be applied to systems rated through 24.9kV. The pad-mount recloser provides all the functionality of the overhead recloser in a padmount configuration. Product applications include feeder protection, circuit sectionalizing, loop sectionalizing, and transformer high-side protection. A wide variety of Kyle electronic controls provide flexibility of application. PWE and PWVE reclosers can be supplied with any of the electronic controls available in overhead reclosers, including the FXB, Form 5, and Form 6 controls. Each control addresses specific customer requirements, from basic overcurrent protection to the most sophisticated feeder re-configuration schemes. All reclosers use Kyle vacuum interrupters for fault current interruption, and oil as the insulating media. Vacuum interruption ensures long contact life and longer duty cycles than oil interruption. It also minimizes product maintenance and extends oil life. Deadfront construction increases safety for operations personnel, and the general public. All terminations within the enclosure are covered with insulating rubber, and all internal parts are completely sealed in insulating oil to reduce maintenance. The compact enclosure addresses end-user requests for low-profile solutions for commercial, residential and substation applications. Cooper paints the PWE/PWVE with an advanced coating system similar to that used in the automotive industry. The coating exceeds ANSI requirements and delivers a weatherproof seal to the tamper-proof enclosure. For further information on PWE and PWVE pad-mounted circuit reclosers, or any Cooper Power Systems product, please call 1-877-CPS-INFO, or e-mail cooper@cooperpower.com Company Information Cooper Power Systems is a subsidiary of Cooper Industries, a diversified worldwide manufacturer of products to the electrical, commercial, and industrial markets. CPS manufactures distribution transformers, distribution switchgear, reclosers, capacitors, protective relays, voltage regulators, automated switches, cable accessories, surge arresters, transformer components, fuses, tools and engineering services for the electrical and industrial markets.
More from Software