Reciprocating Saw Adapter treats rough surfaces in seconds.
Press Release Summary: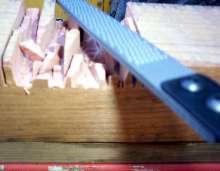 Inline Woodhog-Rasp(TM) adapter turns reciprocating saw into multifunctional tool. Made of steel, product has 198 sharpened teeth with safe edges for protection with each stroke. Product can be used for file jobs, shaping or conditioning wood for treatment, and cleaning out notches or framing in windows. Tool is suited for use by woodworkers, contractors, and plumbers.
---
Original Press Release:

New Woodhog-Rasp(TM) for Reciprocating Saws Treats Rough Surfaces in Seconds.


Paws Off® Tools introduces its inline Woodhog-Rasp(TM) for Extremely Fast Effortless Cutting.

San Francisco, CA, November 2004 Flush-Cut, Inc., an affiliate of Paws Off® Tools, Proudly introduced The Woodhog-Rasp at this year STAFDA Trade Show Conference in San Francisco, CA. This new addition to their Ultimate Reciprocating Saw Accessories once again turns the mono functional reciprocating saw into a multifunctional specialty tool. The Woodhog-Rasp(TM) allows the user to move wood quickly and effortlessly with any brand name reciprocating saw that accepts a standard blade system.

Paws Off Tools LLC contracted a leading tool manufacturer to develop this addition to their new line of all purpose rasp for reciprocating saws. The Woodhog-Rasp, made of high grade steel, has 198 sharpened teeth with safe edges for added protection with each stroke. This is an aggressive tool, moving material at a high rate, and is intended for professional users. A few professions that will benefit include Woodworkers, Contractors, and Plumbers.

Paws Off Tools, LLC continues to add more multifunctional features to the already versatile reciprocating saw. Each adapter is designed to save professionals time, money an aggravation. The Woodhog saves the user precious time shaping or conditioning wood for treatment and is also great for cleaning out notches or framing in windows. Great for time consuming tedious file jobs by reduces the aggravation and frustration of banging knuckles in tight areas. The Woodhog-Rasp(TM) works great in conjunction with The Quick-Sand Adapter, using The Woodhog-Rasp(TM) for heavy stock removal and finishing up with The Quick-Sand Adapter to produce a clean smooth surface.

Flush-Cut Offset Adapter was the first of the new line of recip. saw adapters by Paws Off ® Tools. Flush-Cut Adapter allows the user to make flush cuts in hard to reach places such as along floors or behind moldings.

Each adapter is proudly made in the USA with patents pending worldwide.

All products are now available at independent and chain hardware stores, specialty stores and also available on web stores or threw wholesale distributors. SRP for the Woodhog-Rasp(TM) is $23.99, Replacement Rasp are also available with a SRP of $14.99.

Upcoming Trade show exhibits at The World of Concrete January 17th - 19th, 2005 in Las Vegas, Nevada and The first WOODCRAFT Trade Show in Honolulu, HI this May 2005.

For more information on Flush-Cut's Ultimate Reciprocating Saw accessories you can visit the company websites at www.flushcut.com and pawsofftools.com or Contact: Rebecca Ritter at FLUSH-CUT, INC P.O. Box 494 Cazadero, CA 95421 P: 707.632.6854 F: 707.632.6564 E: Rebecca@pawsofftools.com

More from Controls & Controllers