Recessed LED Lighting is water resistant and durable.
Press Release Summary: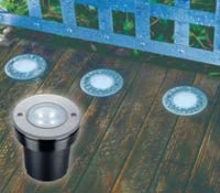 AquaLED(TM) recessed LED lighting system is equipped with long-life Power TopLED(TM) that lasts up to 60,000 hr. Fixtures are vibration and shock resistant to withstand movement and weight of vehicular traffic up to 2,205 lb. They connect in series with 6, 25, or 50 W, 10 V power controllers. System produces minimal amount of heat and consumes maximum of 0.5 W electricity. It operates at temperatures ranging from -5° to +120°F.
---
Original Press Release:

SYLVANIA Presents Energy Saving AquaLED; Recessed LED Luminaire Combines Technical Innovation with Practical Applications


AquaLED LED glow ideal for lighting living rooms and bathrooms, and illuminating walkways, gardens and swimming pools.

DANVERS, Mass., August 6, 2004 -- As part of their ongoing effort to stay at the forefront of new technology in the lighting world, OSRAM SYLVANIA introduces the AquaLED(TM) recessed LED (light emitting diode) lighting system. The AquaLED luminaire, which offers a rugged alternative to standard recessed lights, features innovative LED technology, a high quality finish and aesthetically pleasing design.

AquaLED is equipped with four long-life OSRAM POWER TOPLED(TM) in either white or blue - and available in chrome or granite finish to match any décor or surrounding for indoor or outdoor applications.

"The exclusive luminaire design of the AquaLED lighting system provides both style and practicality for a range of lighting situations in the consumer and industrial and commercial market," Constance Pineault, product marketing manager for consumer luminaires, said. "OSRAM SYLVANIA continues to emerge as a leader in quality and design as our LED fixtures, like AquaLED, move into the mainstream lighting market. The AquaLED system combines innovative luminaire design with unique and energy efficient lamp and ballast technology. We're excited about the initial buzz surrounding AquaLED and the introduction of many other innovative luminaire lighting systems."

The Benefits:

SYLVANIA's AquaLED recessed fixtures use long-life LEDs that last up to 60,000 hours. The LED fixtures are vibration and shock resistant enough that they can withstand the movement and weight of vehicular traffic up to 2,205 lbs. The fixtures are also water-resistant, making them an excellent choice to marking out indoor and outdoor applications.

The Technology:

Easy to install, AquaLED fixtures can be connected in series with a 10 volt transformer such as the OSRAM OPTOTRONIC® 6 watt, 25 watt, or 50 watt 10 volt power controllers. OSRAM SYLVANIA offers a five year system warranty if operated with the OPOTRONIC transformer. AquaLED fixtures produce minimal amounts of heat and consume a maximum of 0.5 watt electricity. AquaLED can be operated at temperatures ranging from -5°F to 120°F.

The Applications:

The exclusive design of the SYLVANIA AquaLED matches any décor. The mounting ring that holds the diffuser is available in a chrome or granite finish. The versatility of the luminaire is a key selling point as it can be used for a wide variety of applications from patios and walkways to living rooms and bathrooms, driveways and garages.

For more information on the SYLVANIA AquaLED recessed LED lighting system or any other SYLVANIA product, please visit www.sylvania.com or call 1-800-LIGHTBULB.

About OSRAM SYLVANIA:

Headquartered in Danvers, Mass., OSRAM SYLVANIA is the North American lighting operation of OSRAM GmbH. Together we are the second-largest lighting and materials enterprise in the world, serving customers in more than 140 countries. We manufacture and market a wide range of lighting products, including automotive, electronic and magnetic ballasts, and precision materials and components for industrial and commercial users, original equipment manufacturers and consumers, sold primarily under the SYLVANIA brand name, but also under the OSRAM brand. OSRAM SYLVANIA also offers lighting systems installation and maintenance services. For further information, please refer to our Web site at www.sylvania.com.

More from Electrical Equipment & Systems