Recessed LED Fixtures come in trimmed and trimless models.
Press Release Summary: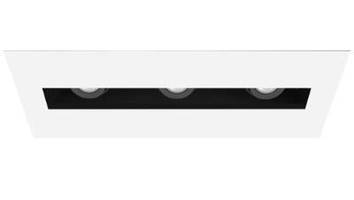 Offered in 16 and 18 W models, Velato Hornet High Power Recessed Slot Adjustable Multiples are available in 1-, 2-, and 3-light configurations. Units are constructed with stamped steel mounting frame with integral mounting bars and steel plaster frame. Luminaires offer 30° vertical tilt and 360° rotation with variety of beam spreads. Providing color temperatures from 2,200–4,000 K and CRI up to 97, fixtures use electronic constant current LED drivers for 0–10 V dimming on 120–277 V systems.
---
Original Press Release:

The New Amerlux Velato LED Reveals Concealed Beams of Light Defined by Your Imagination



OAKLAND, N.J.,  -- Amerlux introduces the architectural minimalistic, yet versatile Velato LED family of HHP Recessed Adjustable Multiples fixtures, which are available in one, two and three light configurations for accent and display lighting in retail, commercial and hospitality environments. Velato is offered in both trimless and trimmed styles.



"The new Velato represents our response to the multitude of customer and specifier requests for a super-flexible, minimalistic concealed ceiling light with a quasi-custom vibe," explains Amerlux CEO and President Chuck Campagna. "Optimal beam aiming of light remains centered within the opening of this concealed multiple, and lands right on target. The Velato faceplate is the key to its unique properties."



Velato Hornet High Power (HHP) Recessed Slot Adjustable Trimless and Trimmed Multiples are offered in 16 and 18 watt models in one-, two- and three-light configurations. Constructed with a stamped steel-mounting frame with integral mounting bars and a steel plaster frame, the fixtures are thermally protected with a steel driver housing. The fixtures feature an extruded aluminum upper housing with knife-edge and mitered welded corners and complete die cast optical head construction without exposed wiring.



Luminaires offer a 30-degree vertical tilt and 360-degree rotation with availability of a variety of beam spreads including spot, narrow flood, medium flood, flood, wide flood, very wide flood and linear spread. Color temperatures consist of 2200K, 2700K, 3000K, 3500K and 4000K, with a CRI of up to 97 in three temperatures. All are offered with 50,000 hours of rated life at 70 percent light output.



Electronic constant current LED drivers are used for 0-10V dimming on 120-277 volt systems. Velato dims down to less than 5 percent and is compatible with all major dimming protocols prevalent in the U.S. including TRIAC and ELV (electronic low voltage), DALI driver, Lutron Hi-lume and EcoSystem which integrate into a variety of building management and daylighting control systems. The fixtures are also compatible with Wall Box ELV dimmers such as Lutron's Diva, Maestro, Nova T, Vareo, Skylark, and Vareo, as well as Leviton's SureSlide and Vizio. Velato is also compatible with Central Control Systems such as ETC's "Sensor Rack" or "DRd" with ELV10 modules, and Lutron's "GP" Panel and Grafik Eye QS with PHPM-PA Interfaces.



The faceplate finish is matte white standard.



Velato can be mounted in sheet rock ceilings with a maximum thickness of one inch.



About Amerlux LLC

Amerlux understands the power of light and its connection to both mind and body. The manufacturer uses this understanding to create products that deliver real benefits and extraordinary value. Lighting is so much more than just watts and lumens. Amerlux Lighting captivates and motivates, creating unique visual experiences for every environment, worldwide.



A global trailblazer in lighting technology and design, Amerlux understands that the true power of light is not measured in lumens alone, but ultimately in the human responses it creates. Brilliant innovators in its brand-new Oakland, N.J., headquarters, the company develops, manufactures, and delivers amazing architectural grade lighting solutions that span virtually every interior and exterior application--and leads the industry in integrated intelligent systems. Let Amerlux change the way you view light.



Contact:

AMERLUX, LLC

178 Bauer Drive 

Oakland, New Jersey 07436

www.amerlux.com

info@amerlux.com

T 973.882.5010

F 973.882.2605

More from Sensors, Monitors & Transducers