Receptacle/Switch Combination Devices are tamper-resistant.
Press Release Summary: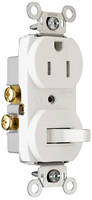 Meeting 2008 National Electrical Code® (NEC) safety standards, Tamper-Resistant Receptacle/Switch Combination devices incorporate single receptacle and single-pole toggle switch. They feature built-in shutter system that obstructs objects from touching electrically live components, but plugs can be inserted and removed as usual. Suited for residential and commercial applications, devices are available in 15 and 20 A options.
---
Original Press Release:

P&S Tamper-Resistant Receptacle Switch Combinations Protect Kids and Meet Safety Codes



SYRACUSE, N.Y. (March 11, 2009) - Pass & Seymour/Legrand, a leading manufacturer of electrical wiring devices and home systems, announces its Tamper-Resistant Receptacle/Switch Combination devices. Meeting 2008 National Electrical Code® (NEC) safety standards, the combination devices expand what is already a broad offering of Tamper-Resistant Receptacles for residential and commercial applications.

The 2008 NEC established a new standard for child electrical safety, requiring all electrical outlets, or receptacles, in newly constructed residential units to be Tamper-Resistant Receptacles.

A Tamper-Resistant Receptacle works like any electrical outlet, except it has a built-in shutter system that prevents children from inserting metal objects into the slots. The shutters obstruct objects from touching electrically live components, but plugs can be inserted and removed as usual.

The Tamper-Resistant Receptacle-Switch Combination brings a single receptacle and a single-pole switch together, for safety and convenience. The devices come in 15A and 20A options.

"P&S already offers more than 100 Tamper-Resistant device, style and color combinations," said Tom Roy, residential product manager at P&S. "The addition of these receptacle and toggle switch combinations represents another significant step toward offering the broadest range of Tamper-Resistant products on the market."

Nearly 30 states and municipalities have adopted the new Tamper-Resistant Code requirements, and most can be expected to adopt them by the end of 2009.
For more information about any of the P&S Tamper-Resistant Receptacles, contact your P&S representative or visit www.passandseymour.com/TRoutlets.

Pass & Seymour/Legrand is a leading provider of electrical wiring devices, accessories and home systems in North America. For more information, call
1-800-776-4035 or visit www.passandseymour.com.

About Legrand

Legrand is the global specialist in products and systems for electrical installations and information networks where people live and work. Its comprehensive offering of solutions for use in commercial, industrial and residential markets makes it a benchmark for suppliers worldwide.

Innovation for a steady flow of new products with high added value is a prime vector for growth. Backed by sound business and financial structures, Legrand is actively expanding its presence in fast-growing geographical zones and market segments that include lighting controls, energy savings and home automation, through a sustained stream of targeted, self-financed acquisitions and other initiatives. In 2007 Legrand employed 35,000 people around the globe and reported sales of 4.1billion, including 25% in emerging markets. The company is listed on Euronext Paris and is a component stock of indexes including the SBF120, FTSE4Good and MSCI World (ISIN code FR0010307819). www.legrandelectric.com

Pass & Seymour/Legrand
P.O. Box 4822
Syracuse, NY 13221

More from Software