Receptacle, Signal Pack increases outlet and energy control.
Press Release Summary: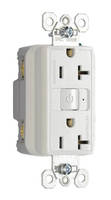 Pass & Seymour® Plug Load RF Receptacle, working in concert with Pass & Seymour Plug Load RF Signal Pack, provides building/facility owners and managers with wireless solution for lighting and plug load control. Wireless RF connection between these 2 components extends 150 ft max in ideal conditions and 30 ft in worst case environments. While receptacle has internal relay to switch plug load on/off according to sensor command, Plug Load RF Signal Pack operates in 915 MHz band.
---
Original Press Release:

Legrand® Boosts Outlet and Energy Control for Building and Facility Managers with New Plug Load RF Solution



Simple to use, easy to integrate, delivers energy efficiency



SYRACUSE, N.Y. – Legrand, a leading provider of electrical wiring devices and home systems, today announced the availability of its new Pass & Seymour® Plug Load RF Receptacle, which provides a simple-to-use, wireless solution for plug load control.



The Plug Load RF Receptacle works in concert with the Pass & Seymour Plug Load RF Signal Pack and adds to an existing offering of code compliant controlled receptacles.



Building and facility owners and managers can easily achieve plug load control by using the integrated solution from Legrand.  Enhanced plug load management is attained when the Pass & Seymour RF Receptacle is installed into a branch wiring system and the low voltage RF Signal Pack is integrated to an occupancy sensor and 24Vdc power pack. The two are connected via a reliable wireless, RF connection. The RF Receptacle features an internal relay to switch the plug load on/off according to the sensor's command.



"The Plug Load RF Receptacle and Signal Pack allows for lighting and plug load control in one seamless solution to provide additional means for energy efficiency in commercial spaces and meet expanded energy codes and standards requirements. These products are also designed to make the construction of electrical systems and layout and identification of controllable receptacles in a building easier," said Kevin Kohl, commercial product manager at Pass & Seymour, Legrand Electrical Wiring Systems.



Energy codes require that 50 percent of all 15 & 20A, 125V receptacles be controlled by automatic means.  For this reason, Plug Load RF Receptacles are available in half and dual-controlled versions and are 15A, 125V and rated at either 15A, 125V with a NEMA Config. of 5-15R, or 20A, 125V with a NEMA Config. of 5-20R. They comply with 2014 NEC, CA Title 24, and ASHRAE 90.1 and also meet the requirements of UL498B (receptacles with Integral switching means).  The text "CONTROLLED" is permanently molded into the face of the receptacle, making it very easy for end users to clearly identify which receptacles are controlled.



The RF Receptacle works to control the plug load by receiving an on/off command from the RF Signal Pack that it is bound to.  This command is given based on what the integrated occupancy sensor sees in the space.  Multiple RF Receptacles can be bound to one RF Signal Pack, making for a quick, convenient means to achieve energy efficiency.  Likewise, the RF Receptacle features line and load terminals, meaning that an entire circuit can be controlled via downstream wiring with just one RF Receptacle.



Binding the RF Receptacle for wireless communication to the RF Signal Pack is a simple three-step process. A binding button, which also provides a manual override feature, is situated on the face of the receptacle. An LED indicator light on the receptacle not only guides binding process, but also indicates power to the receptacle.



The RF Receptacle meets UL498B and Federal Specification WC-596.  It features a steel mounting strap that is locked into the face and back body and is designed to resist pulling away from face/body assembly .032 inch think, brass, triple-wipe power contacts provide lasting retention. An auto-ground screw provides a redundant ground means and power terminals feature screw-activated pressure plates for back wire flexibility.



The Plug Load RF Signal Pack operates in a quiet 915 MHz band and is fully compliant with Part 15 of the FCC Rules. The Signal Pack can achieve a maximum communication distance of 150 feet in ideal environments and can comfortably achieve 30 feet communication in worst case environments. It features a low profile design that makes it easy to seamlessly blend into any décor. Two mounting options for acoustic tile mounting and keyhole mounting provide contractors with productive solutions that facilitate fast, accurate and convenient installation. An LED Indicator Light on the signal pack guides the binding and communications process between the RF Signal Pack and the RF Receptacles. Conveniently accessible push-in locking tabs allow for easy post-installation rotation to improve RF communication.



"The Plug Load RF solution is perfect for commercial offices, education facilities, retail environments and hospitality/lodging," concludes Kohl. "As facilities and buildings become bigger and more complex they will require smarter integrated solutions that deliver energy efficiency, compliance and effortless management."



Half-controlled and dual controlled Plug Load RF Receptacles are available today in the in the following colors: ivory, black, light almond, white, brown and grey. The RF Signal Pack is available in white.



Connect with Legrand on Facebook www.facebook.com/legrandna, Twitter www.twitter.com/passandseymour or www.twitter.com/legrandna, and YouTube www.youtube.com/legrandna.



About Legrand

Legrand is the global specialist in electrical and digital building infrastructures. Its comprehensive offering of solutions for use in commercial, industrial and residential markets makes it a benchmark for customers worldwide. Innovation for a steady flow of new products with high added value and acquisitions are prime vectors for growth. Legrand reported sales of close to $6 billion in 2013. Legrand has a strong presence in the North American market, with a portfolio of well-known product lines that include Cablofil, Electrorack, Middle Atlantic, NuVo, On-Q, Ortronics, Pass & Seymour, Vantage, WattStopper, Wiremold, and the recently acquired C2G and Quiktron product lines. The company is listed on NYSE Euronext and is a component stock of indexes including the CAC40, FTSE4Good, MSCI World, Corporate Oekom Rating and DJSI (ISIN code FR0010307819). www.legrand.com

More from Paints & Coatings