Receiver evaluates and corrects machinery alignment problems.
Press Release Summary: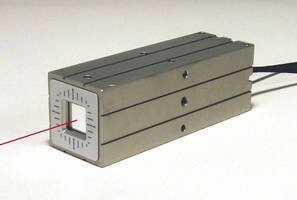 Capable of measuring 2 linear axes X and Y and their 2 angular components yaw and pitch, 4 axis Microgage Receiver operates over distances of 100 ft or more and delivers measuring precision of 0.0005 in. and 0.005°. Digital display in unit provides precise linear and angular readings. Laser beam provides measuring reference line and unit measures where laser line lands on internal detector and determines position of machine or sub-assembly relative to this laser reference beam.
---
Original Press Release:

New 4 Axis Receiver Solves Industrial Alignment Problems



Peabody, MA, June 2009: Pinpoint Laser Systems® is announcing a new four axis Microgage Receiver that provides useful alignment information for evaluating and correcting machinery alignment problems. The new 4D Microgage Receiver measures two linear axes X and Y and their two angular components yaw and pitch. The two linear axes show how well machinery is aligned along a common centerline and the angular readouts show if parallelism problems are present. The new 4D Microgage Receiver is ideal for aligning lathes, turning centers, spindles as well as moving linear slides, rams and pistons, injection molding machinery, moving mechanical sub-assemblies and more. A compact, digital display provides precise linear and angular readings and is easy and intuitive to use.

The method of operation is simple - a narrow laser beam provides a measuring reference line and the 4D Microgage Receiver measures where this laser line lands on an internal detector and determines the position of a machine or sub-assembly relative to this laser reference beam. This receiver will operate over distances of 100 feet or more and deliver a measuring precision of 0.0005 inch and 0.005 degrees; ideal for demanding industrial alignment applications. The Laser Microgage system along with this new 4D Microgage Receiver puts precise measuring and alignment capability right into the hands of plant engineers and manufacturing personnel so that they can monitor and optimize their own production machinery and equipment.

Since 1992, Pinpoint has offered a broad line of easy-to-use products that incorporate lasers, optics, electronics, and solidly built mechanical features. Customers use the tool for both routine and complex measuring and alignment tasks. Pinpoint's measuring equipment is actively used in the aerospace industry, machine ships, paper and textile mills, shipbuilding facilities, extrusion plants, and electronic assembly facilities to name a few. Pinpoint has also worked closely with many manufacturers to develop specialized alignment systems for robotic applications, medical scanning devices and numerous other applications.

For additional information on any of our Microgage products or editorial material, please contact Pinpoint Laser Systems at 800-757-5383 or info@pinlaser.com.

Contact: Alison Andrews

Phone: 978-532-8001

Fax: 978-532-8002

Pinpoint Laser Systems, Inc

56 Pulaski Street, #5

Peabody, MA 01960

More from Communication Systems & Equipment