Rear Mount Touch Monitor offers 170 x 170° viewing angle.
Press Release Summary: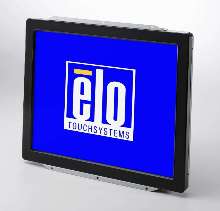 Model 1947L is a 19 in., pure glass, LCD touch monitor with IntelliTouch or vandal-resistant SecureTouch surface-wave touchscreen technology, which deliver precise touch performance that never needs recalibration. It offers multilingual on-screen dislay as well as worldwide power and agency approvals. Injection-molded minibezel with watertight seal makes monitor suited for public access and industrial applications. Variety of mounting options are available.
---
Original Press Release:
Elo TouchSystems Introduces New 19" LCD Rear Mount Touchmonitors

Family of Chassis Touchmonitors Now Ranges from 12.1" to 19"

Fremont, California--January 19, 2004--Elo TouchSystems, Inc., the global leader in touch technology and a business unit of Tyco Electronics, today announces a new 1947L 19" Liquid Crystal Display (LCD) rear mount touchmonitor. The 1947L expands Elo's existing family of 12.1", 15", 17", and 18" LCD chassis touchmonitors that feature Elo's IntelliTouch or SecureTouch surface-wave technologies. Elo's touchmonitors offer a variety of mounting options and feature a unique injection-molded minibezel with a watertight seal which make them ideal for public access and industrial applications.

Longer-Lasting Product Cycle

"The new 1947L 19" LCD rear mount touchmonitor is the latest addition to Elo's family of chassis LCD touchmonitors," says Paul Wiener, Elo's marketing manager. "Like the 12" to 18" products, the 1947L has a longer-lasting product cycle because the enclosure is controlled by Elo's design specifications. This means that future panel upgrades are possible without external changes." According to Wiener, Elo now offers touchmonitors for indoor/outdoor kiosks, ticketing machines, medical equipment, and industrial automation applications, available with a choice of touch technologies.

Wider Viewing Angle

"Elo's 1947L 19" LCD touchmonitor has a wider viewing angle: 170° vertical by 170° horizontal," says Mark Bolt, Elo's product manager. Commenting on the larger screen size, Bolt adds, "The large, brilliant display and wide viewing angle grab the user's attention and the pure glass touchscreen continues to maintain the graphic quality and clarity."

Touchscreen Technology Preserves Original Picture Quality

Elo's IntelliTouch and vandal-resistant SecureTouch surface-wave touchscreen technologies deliver a precise touch performance that never needs recalibration. Their pure glass construction yields the best possible optics, with higher light transmission and less reflection than touchscrrens with other touch technologies, which use metallic coatings, wires, or plastic layers. And notably, Elo's surface-wave touch technology does not alter the colors of the original picture.

Protected by Watertight Faceplate Seal

In keeping with the family features, the new 1947L 19" LCD rear mount touchmonitor offers a multilingual on-screen display (OSD) as well as worldwide power and agency approvals. "Like all of Elo's touchmonitors, the 1947L features an integrated minibezel with a tiny, almost invisible seal integrated into the bezel," says Bolt. The seal provides a level of protection against water and dirt without using foam tape, which invariably deteriorates and needs replacement over time.

For more information on Elo's products and services, please contact Elo TouchSystems at 800-ELO-TOUCH (800-356-8682), visit Elo's Web site at www.elotouch.com, or direct electronic mail inquiries to eloinfo@elotouch.com.

IntelliTouch and SecureTouch are trademarks of Elo TouchSystems, Inc. All other products and company names referred to herein may be trademarks or registered trademarks of their respective companies or mark holders.

Public Relations Contacts:

Barbara Van Gennep

Marcom Manager

Elo TouchSystems, Inc.

Tel: 510.739.4670

bvangenn@elotouch.com

Tom Donnelly

Tyco Electronics

Tel: 717.592.5366

tadonnel@tycoelectronics.com

About Elo TouchSystems

Elo TouchSystems, Inc., global leader in touch technology, is a business unit of Tyco Electronics. Elo develops, manufactures and markets a complete line of touch products that simplify the interface between people and computers in both public-access and employee-activated applications. Founded in 1971, the company is headquartered in Fremont, California, with manufacturing sites in the U.S., Belgium, Taiwan, and Japan. (Elo operates in Japan under the name of Touch Panel Systems.) Elo's main regional offices are in Kessel-Lo, Belgium and Yokohama, Japan, with additional sales and technical support offices worldwide. For more information on Elo TouchSystems' products and services, call 1-800-ELO-TOUCH in the U.S. or visit our Web site at www.elotouch.com.

About Tyco Electronics

Tyco Electronics is the world's largest passive electronic components manufacturer; a world leader in cutting-edge wireless, active fiber optic and complete power systems technologies; and is also rapidly developing extensive networking and building technology installation services. Tyco Electronics provides advanced technology products from over forty well-known and respected brands, including Agastat, Alcoswitch, AMP, AMP NETCONNECT, Buchanan, CII, CoEv, Critchley, Elcon, Elo TouchSystems, M/A-COM, Madison Cable, OEG, OneSource Building Technologies, Potter & Brumfield, Raychem, Schrack, Simel and TDI Batteries
More from Materials