Re-Sealing Label prevents package tearing and spilling.
Press Release Summary: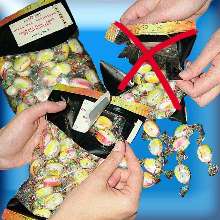 Etik Tack® label creates airtight seal for all kinds of packaging and will not tear, enabling bags to be reopened and re-sealed over 10 times if needed. Seal remains airtight and can be affixed on packaging line in any position on bag. Product opens window to stop hinge, opening bag at same time. Label can be adapted for delicate films and used for blister trays as well as paper or aluminum packaging.
---
Original Press Release:

The New Etik Tack® Re-Sealing Label Puts An End To Tearing, Spilling, And Spoiling


Chicago, December 3, 2004

French company Etik Ouest has introduced a completely innovative way to tackle the problem of re-sealing polypropylene bags-the Etik Tack. The Etik Tack label creates an airtight seal for all kinds of packaging and is guaranteed not to tear. Bags can now be reopened and re-sealed multiple times. The device is patented by Etik Ouest and is ideal for dry goods, candies, and other products packaged under modified atmosphere.

Previously, there was no way of opening a welded flow-pack type bag in polypropylene or polyamide film without tearing it and spilling the contents. Nor was there any method of re-sealing the bag, even where the goods had a tendency to spoil such as peanuts and sweets.

The Etik Tack label can be affixed at high speeds on the packaging line, just like a standard label, on any position on the bag. This, in turn, opens a window to a stop hinge, opening the bag at the same time. The edges of the window are perfectly protected, as they are impossible to tear thanks to a design patented by Etik Ouest.

The ETIK TACK® label can be adapted for delicate films and can also be used for blister trays and even with paper or aluminium packaging. Depending on the contents, the consumer either pours out the product or removes it directly from the package. The window is then resealed. The seal remains airtight and may be reused more than ten times if necessary. ETIK TACK® labels guarantee ease of use at a very affordable price.

About Etik Ouest:

Etik Ouest designs and manufactures adhesive labels, distributes identification products (heat transfer printers, consumables, label capture software, bar code reader systems, labelling machines, etc.). The company belongs to the MC3 Holding group and has an annual turnover of Euros2.9 million.

For further information, please contact:

ETIK OUEST
Christophe Traineau, Manager
Tony Soulard, Sales Manager
BP 349 - ZA Soullans
85303 CHALLANS Cedex
Tel : 02 51 49 17 27
Fax : 02 51 49 27 27
E-mail : info@etikouest.com
Website: www.etikouest.com

or

FRENCH TECHNOLOGY PRESS OFFICE
205 North Michigan Avenue, Suite 3740
Chicago, IL 60601
Fax: (312) 327-5261
E-mail: contact.ftpo@ubifrance.fr

More from Thermal & Heating Equipment