Ratcheting Load Binder is used with Grade 70 transport chain.
Press Release Summary: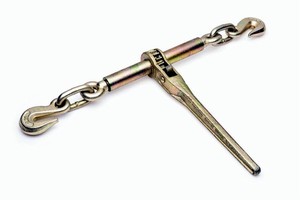 Approved for use with both 5/16 and 3/8 in. Grade 70 transport chain, drop forged and heat treated ratchet-style Grade 70 Load Binder features full 8 in. of take-up. Its 6,600 lb working load limit and 26,400 lb maximum breaking strength rating provide strength for heavy loads. Product is compliant with U.S. D.O.T 393.100-393.102 requirements, and has yellow chromate finish.
---
Original Press Release:

Campbell® Grade 70 Ratcheting Load Binder Introduced by Cooper Hand Tools



New Load Binder Offers Peace of Mind When Securing Important Cargo

APEX, N. C. - August 28, 2008 - Cooper Hand Tools announced today a new ratcheting load binder from its Campbell line of quality chains, blocks, clamps and fittings. The new ratchet-style load binder is convenient and easier to adjust than traditional lever-type load binders, and features a full eight inches of take-up for a superior range of adjustment.

The drop forged and heat treated Grade 70 load binder is approved for use with both 5/16" and 3/8" Grade 70 transport chain. Its 6,600 lb. working load limit, and 26,400 lb. maximum breaking strength ratings, forged right on the handle, provide maximum strength for the heaviest loads.

"When securing loads upwards of nine tons, its important to have a quality, trusted load binder working to keep your precious cargo safe," said Mark Workinger, Product Manager at Cooper Hand Tools. "Campbell provides the necessary peace of mind with its time-tested quality and value."

The new ratcheting load binder meets U.S. D.O.T 393.100-393.102 requirements for use with transport chain. In addition, an attractive yellow chromate finish matches the industry standard color used for Grade 70 Binder Chains.

About Cooper Hand Tools

Cooper Hand Tools, a division of Cooper Industries, LLC, manufactures and markets many well-known brands of hand tools, chain, and electronic soldering products, including Campbell chain, Crescent brand wrenches and pliers, Lufkin measuring tools, Nicholson files and saws, Plumb hammers, H. K. Porter bolt cutters, Weller soldering products, and Wiss snips. Headquartered in Apex, North Carolina, Cooper Hand Tools has manufacturing facilities in six domestic and eight international locations, and has approximately 4,000 employees worldwide. For more information, visit www.cooperhandtools.com.

About Cooper Industries

Cooper Industries, Ltd. (NYSE: CBE) is a global manufacturer with 2007 revenues of $5.9 billion, approximately 87% of which are from electrical products. Founded in 1833, Cooper's sustained level of success is attributable to a constant focus on innovation, evolving business practices while maintaining the highest ethical standards, and meeting customer needs. The Company has eight operating divisions with leading market share positions and world-class products and brands including: Bussmann electrical and electronic fuses; Crouse-Hinds and CEAG explosion-proof electrical equipment; Halo and Metalux lighting fixtures; and Kyle and McGraw-Edison power systems products. With this broad range of products, Cooper is uniquely positioned for several long-term growth trends including the global infrastructure build-out, the need to improve the reliability and productivity of the electric grid, the demand for higher energy-efficient products and the need for improved electrical safety. Sixty percent of total sales are to customers in the Industrial and Utility end-markets and 34% of total sales are currently to customers outside the United States. Cooper, which has more than 31,500 employees and manufacturing facilities in 23 countries, is incorporated in Bermuda with administrative headquarters in Houston, TX. For more information, visit the website at www.cooperindustries.com.

Phone: (919) 387-0099

Fax: (919) 387-2614

More from Cleaning Products & Equipment