Ratchet Wrenches Make Hydrant Operation Faster, Easier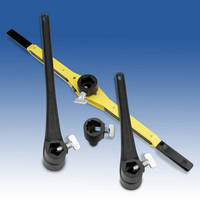 West Boylston, MA – When a hydrant has to be opened in a hurry, Lowell's three rugged, ratcheting hydrant wrenches make the job faster and easier. Mount a wrench on a pentagonal or square nut, tighten the thumb screw, and you're in business. Long bolts or worn or frozen nuts? No problem.



The Model 52F has a 15" iron handle, the Model 53F has a 20" iron handle, and the Model 252F has a stamped double handle and is 32½" long. All three feature Lowell's heavy duty ratcheting mechanisms.



The long handles of the 52F and 53F provide extra leverage and each requires only a 22½º swing to open or close any hydrant. Pentagonal sockets are adjustable from ½" to 2" and there is a 9/16" square opening for oil plugs that is accessed by turning the wrench over. Sockets adjust by thumb screw for easy set up and ensure a tight fit.



With its double handles and vinyl grips, the Model 252F wrench is ideal for two-person operation making it easier to apply additional force and allowing the operators to always face the roadway for greater safety. Three pentagonal sockets are available: 1½", 1¾", and 2". A thumb screw makes it easy to get a tight fit on nuts and the ratchet direction is easily reversed.



Like all of the company's products, Lowell's hydrant wrenches are guaranteed against defects in material and workmanship for a period of one year from date of delivery.



For more information about Lowell tools, call 800/456-9355 or 508/835-2900, or email customerservice@lowellcorp.com.



More from Portable Tools