Ratchet Wrenches have ergonomic grips, performance.
Press Release Summary: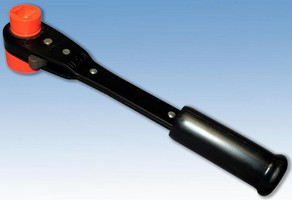 Model 151 Double Shot dedicated ratchet wrench and 151T socket ratchet wrench are available with 1½ in. fat grip that makes using tools more comfortable and secure while reducing worker fatigue. Bolt-thru design of both models lets bolts pass entirely through socket so nuts can be secured on any threaded length. Featuring fluorescent orange sockets to optimize tool visibility, ratchets feature reversing control located in head and are semi-enclosed to minimize fouling.
---
Original Press Release:

New Grips Improve Wrench Comfort and Performance



WORCESTER, MA June 3, 2008 . . . Lowell Corporation has added new comfort grips to its popular Model 151 Double Shot dedicated ratchet wrenches and its 151T socket ratchet wrenches. The updates promise greater comfort and improved performance for workers in the water, sewer, and electrical utilities.

The new 1-1/2 inch fat grip makes using the tools more comfortable and secure, while also reducing fatigue.

Both wrenches incorporate Lowell's Bolt-Thru design. This feature allows bolts to pass entirely through the socket so that nuts can be secured on any threaded length, eliminating the need for deep sockets or open-end wrenches.

Wrench handles and sockets have heavy-duty construction and are coated with electrostatic epoxy paint for durability and easy cleaning. Ratchets feature a reversing control located in the head of each wrench to reverse the action safely and conveniently and ratchets are semi-enclosed to minimize fouling.

Both wrenches also feature fluorescent orange sockets that make the tools harder to lose and easier to find.

For water utility maintenance and construction, Lowell's Model 151 Double Shot wrenches have applications such as mechanical joints, repair clamps, sleeves, service saddles, tapping sleeves, flange bolts, and couplings. The handle is stamped and riveted steel.

For electrical linemen, the triple square socket of the Model 151T can handle the most common nut sizes in pole fasteners, lag bolts, C clamps, and suspension bolts. The wrench is available with a variety of square and hex sockets and has a 12" stamped and riveted metal handle.

All Lowell wrenches are guaranteed against defects in material and workmanship for a period of one year from date of delivery.

Started as the Lowell Wrench Company in 1869, Lowell Corporation is a leading American manufacturer of ratchet technology for hand tools and machinery. The company makes ratchet arms, socket wrenches, ratchet and roller clutches, and related products used by civilian industry, the military, and utilities. Lowell sells its products both nationally and internationally.

For more information about Lowell wrenches, or for a full-line catalog, call 800/456-9355 or 508/835-2900, email customerservice@lowellcorp.com, or visit the company's web site: www.lowellcorp.com.