Rapid Prototyping Systems offer 5 and 7 mil settings.
Press Release Summary: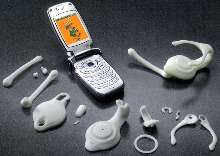 Built on T-Class platform, FDM Titan and FDM Vantage model high-performance thermoplastic. Former includes 5 mil or 0.005 in. resolution setting, available for use with ABS plastic modeling material, resulting in production of models with features as fine as 0.020 in. on functional prototype. FDM Titan and FDM Vantage machines also include 7 mil or 0.007 in. resolution setting for ABS modeling material.
---
Original Press Release:

Improvements Bring Finer Feature Detail and Smoother Surface Finish to FDM Rapid Prototyping


FDM Titan gets 5-mil update; FDM Vantage resolution up by 50%

Minneapolis, April 21 - (NASDAQ: SSYS) Rapid prototyping system maker, Stratasys, announced an update and an upgrade that increase feature detail and surface-finish smoothness for its T-Class rapid prototyping systems, the FDM Titan and FDM Vantage, which model with high-performance thermoplastic.

An update for the company's FDM Titan significantly improves the quality of its highest model-resolution setting, known as '5 mil' or 0.005 inch (0.127mm). The 5-mil feature is available for use with ABS plastic modeling material. The update brings the modeling resolution into a similar quality range as the company's high-end FDM Maxum system. The feature is also available as an upgrade for FDM Vantage system users wishing to increase modeling resolution with ABS plastic. It represents a 50 percent increase over the previous ABS modeling resolution of 0.010 inch (0.25 mm). The improvement means Vantage users can build models with much finer features - as fine as 0.020 inch (0.508 mm) on a functional prototype. The refined high-resolution setting will be standard on new Titan and Vantage systems shipped as of May.

"The 5-mil resolution setting was made available for the Titan 18 months ago," says FDM product manager Patrick Robb. "Although it worked fine in many applications, its performance wasn't as consistent as it could have been. Through a focused effort by R&D, it has been greatly improved. With this update, Titan users selecting the 5-mil resolution will get the feature detail they expect from Stratasys. And since the high-res setting is now available for the first time on the Vantage, users of that system will also benefit."

Stratasys also has made available for both T-Class machines a '7-mil' or 0.007 inch (0.18mm) setting for ABS modeling material. In the past, the 7-mil setting was available on these machines only for use with polycarbonate modeling material.

Existing FDM Titan owners with maintenance contracts will receive the 5-mil update at no charge. Titan or Vantage users wishing to upgrade their systems should contact Stratasys for details.

The Stratasys FDM Vantage and FDM Titan, are built on the company's T-Class platform, which allows the use of high-temperature, high-performance engineering thermoplastics. Stratasys FDM systems require no special facilities or venting and involve no nuisance, dangerous, or hazardous materials or by-products. Because FDM rapid prototyping systems use popular thermoplastics such as ABS, PC, and sulfones, they are becoming recognized for their ability to rapid manufacture end products, both for short production runs and custom products.

Stratasys Inc, Minneapolis, manufactured 31% of all rapid prototyping systems installed worldwide in 2002, the highest percentage of any manufacturer, according to Wohlers Report 2003. The company patented the rapid prototyping process known as fused deposition modeling (FDM6). The process creates solid models directly from 3D CAD files using ABS plastic, polycarbonate, PPSF or other materials. Stratasys manufactures rapid prototyping systems for OEMs such as aerospace, automotive, defense, medical, and consumer product makers.

FDM Maxum, FDM Titan, and FDM Vantage are trademarks, and FDM is a registered trademark.

More from Fasteners & Hardware