Rapid Prototyping System helps develop complex FPGA designs.
Press Release Summary: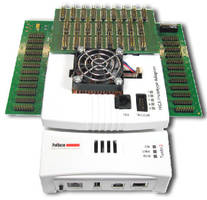 Designed for flexibility, Tanto2-FPGA uses hardware base designed to integrate proprietary interfaces without excessive effort. All signals are accessible and can be controlled via test and measurement board and logic analyzer. Due to Altera FPGA (Stratix II), system supports designs with up to 3 million ASIC gates; complex interfaces, such as LVDS; and high clock rates. Test and verification effort is reduced by I/O that allows, for example, routing of tracebus for debug functions.
---
Original Press Release:

Complex FPGA Designs with Easy-to-Use Rapid Prototyping System



Hitex introduces Tanto2-FPGA, a system which offers total flexibility regarding implementation and easy access to all signals of the FPGA. Powerful FPGAs make the development of complex hardware programmed in software easier than ever before. The flexibility of evaluation and prototyping boards is often limited as there are normally only standard interfaces with a fixed defined signal interface available and application-specific interfaces cannot be adapted very easily.

The Tanto2-FPGA system offers a flexible hardware base concept designed to integrate proprietary interfaces without much effort. All signals are accessible and can be controlled via a test & measurement board and a logic analyzer. Thanks to an advanced Altera FPGA (Stratix II), Tanto2-FPGA supports designs with up to 3 million ASIC gates, complex interfaces such as LVDS, and high clock rates. Test and verification effort can be considerably reduced by I/O connections allowing e.g. to route out a tracebus for debug functions.

More info on Tanto2-FPGA is available at: www.hitex.com/fileadmin/pdf/products/hardware_tools/tanto2-rapid-fpga-prototyping-platform.pdf

For more details, please contact:
Germany
Hitex Development Tools
Greschbachstr. 12
D-76229 Karlsruhe, Germany
Internet: http://www.hitex.de/www.hitex.com

Customer Inquiries
Peter Donde
Phone: +49/721/9628-143
Fax: +49/721/9628-149
E-mail: sales@hitex.de

Europe
Hitex Development Tools
Greschbachstr. 12
D-76229 Karlsruhe, Germany
Internet: http://www.hitex.de/www.hitex.com

Customer Inquiries
International Sales
Phone: +49/721/9628-0
Fax: +49/721/9628-149
E-mail: sales@hitex.de

USA
Hitex Development Tools
2062 Business Center Drive, Suite 230
Irvine, CA 92612
Internet: www.hitex.com

Customer Inquiries
Phone: (800)-45HITEX
Phone: +1/949/86 30 320
Fax: +1/949/86 30 331
E-mail: sales@hitex.com

More from Electrical Equipment & Systems