Railway Connectors comply with EN 45545 smoke and fire standard.
Press Release Summary: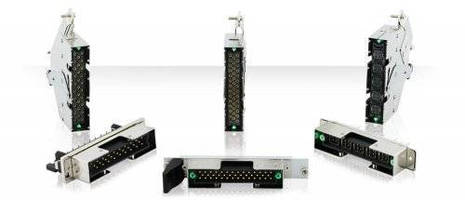 Designed for on-board or on-ground TCMS (Train Control Monitoring System) and TIMS (Train Information Management System) applications, MSG 3U fits in 3U racks and is shielded inside metal hood on plug and receptacle sides for full protection against EMI and signal degradation. Layouts are available with 29 or 41 standard contacts or up to 5 Quadrax Ethernet contacts. Latter option supports signal transmission at speeds up to 100 Mbps and lets users select grounded or ungrounded contacts.
---
Original Press Release:

Smoke and Fire Compliant Railway Connectors



Designed for on-board or on-ground TCMS (Train Control Monitoring System) and TIMS (Train Information Management System) applications, the MSG 3U connector by Esterline Connection Technologies - SOURIAU complies with EN 45545, the most stringent smoke and fire standard. It is one of the few connectors on the market that have been specially developed for 3U racks. Already adopted by several rail-equipment manufacturers, the MSG 3U is currently being employed in a large number of projects and will be presented at:InnoTrans (Booth 216 Hall 12) and APTA (Booth 1701).



The new MSG 3U connector developed by Esterline Connection Technologies – SOURIAU offers many advantages.



The main distinguishing feature of the MSG 3U is its high reliability. The result of 20 years of experience gained by Esterline Connection Technologies – SOURIAU's teams in rack connections for railway applications in Japan, the MSG 3U is designed to meet equipment miniaturization requirements and fit better in 3U racks.



Not only is the MSG 3U small, it is shielded inside a metal hood on the plug and receptacle sides for full protection against electromagnetic interference and signal degradation.



MSG3U is available in 3 layouts: with 29 and 41 standard contacts and with up to five Quadrax Ethernet contacts. The Quadrax version can transmit signals at speeds of up to 100 Mbps and the design allows users to select grounded or ungrounded contacts.



Its quick, tool-less locking/unlocking system and front accessibility are perfect for night-time maintenance jobs requiring minimal time without disrupting train service.



The many commercial successes of the MSG 3U on Japan's railway networks, among the world's most demanding in terms of reliability, demonstrate just how much the connector can do.



SOURIAU USA

25 Grumbacher road

York

PA 17402

SHAW Rhonda

Phone : 1 866 768 7428

Fax : 1 717 505 5953

rshaw@souriau.com



Esterline Connection Technologies

SOURIAU- SUNBANK

GAUTHIER Bertrand

Phone : +33 1 30 84 77 50

bgauthier@souriau.com

More from Computer Hardware & Peripherals