Automated Guided Vehicle Systems
Rail-Guided Vehicle System facilitates material transfer.
Press Release Summary: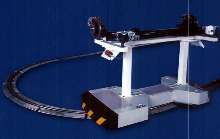 Modular and reconfigurable, FlexTrolley ARGV System(TM) combines precision of chain conveyor with independent control of AGV. Each part is fixtured and mounted on self-driven wheeled trolley, guided along slotted track on floor, which runs between stations on line. Full 360° access along horizontal plane allows operators to move freely around trolleys. Each trolley is driven by high-speed electric motor, powered by onboard battery. Speeds up to 24 m/min can be attained.
---
Original Press Release:

ATS Introduces the FlexTrolley ARGV System(TM), A Productivity Breakthrough for the Flexible Factory


CAMBRIDGE, ON - ATS Automation Tooling Systems Inc. has introduced a whole new level of productivity in station-to-station material transfer for the manual or automated assembly of large, complex products. Modular and reconfigurable, the ATS FlexTrolley Automated Rail-Guided Vehicle (ARGV) System(TM) offers the precision of a chain conveyor with the independent control of an AGV. The result is unprecedented flexibility for plants producing heavy assemblies such as automotive axles, suspension struts and corners, dashboards, door modules or similar components.

With the FlexTrolley ARGV System(TM), each part is fixtured and mounted on a self-driven, wheeled trolley, guided along an easy-to-install slotted track on the floor, which runs between and through the stations on the line. The fixtures can swivel to preset angles, to provide fast access during assembly operations. In addition, full 360° access along the horizontal plane allows operators to move freely around the trolleys, working from side to side. Components can be supplied from either side of the line. Manual or automated process tools are suspended and powered from overhead beams. The floor remains free for circulation of trolleys and operators.

Higher Productivity
The ATS FlexTrolley System(TM) offers tangible performance improvements in manual, semi- and fully automated operations. Trolley motion is independent, programmed by means of a micro PLC mounted on each carrier, so cycle times at each station are not directly interrelated. Without the need for end stops, there is no bounce. In fact, operators can safely begin work even before the carrier has completely stopped. In automated systems, each PLC communicates with the master PLC on the line via an infra-red port. The system continuously knows the position of each trolley, and can track products by part reference and results of operations, such as good-part, bad-part. The number of trolleys on the line is determined according to production volumes. Adding trolleys as production requirements increase is easy.

Each trolley is driven by a high-speed electric motor, powered by an onboard battery. Batteries can be charged automatically at any station during processing, by means of a unique sliding contact mechanism, eliminating downtime for battery changeout. Transfer times between stations are twice as fast as a conventional chain conveyor - speeds up to 24 meters/min can be attained, in an automated system. 4 meters/min for manual. Speed is adjustable ±20% to meet the requirements of the operation. Acceleration / deceleration can also be adjusted to the process requirements at each station. Sensors built into the trolley's large, sensitive bumpers provide automatic collision detection, stopping the carrier prior to collision with other carriers or people. Trolleys have few moving parts, so operation is clean and quiet, without the noise, contamination from grease, and physical hazard presented by conventional chain conveyors.

Improved Economics
The ATS FlexTrolley(TM) delivers faster payback through higher productivity, but it also offers additional economic advantages. Unlike a conventional chain conveyor, the FlexTrolley ARGV System(TM) has few moving parts to wear and fail, so maintenance costs are extremely low. If a failure ever should occur, carriers can be taken off-line without shutting down operations. Uptime is virtually continuous. And because the system uses power only while the trolleys are actually moving between stations, overall power consumption is also low.

Further contributing to cost effectiveness is the FlexTrolley ARGV System(TM)'s flexible, modular design. Made from industry-standard components, the FlexTrolley System(TM) is extremely simple, consisting only of the carriers, controls, overhead beams and guide track. The guide track installs quickly and easily with no modifications required to the plant floor. Extension of the line or changeover for new products is just as easy, allowing plant owners to size their investment to meet market demand.

The ATS FlexTrolley ARGV System(TM) has already proven its worth at a number of successful installations worldwide, and is making yet another breakthrough - in price. In some cases, installed cost has turned out to be slightly more than half that of competing bids.

About ATS
ATS Automation Tooling Systems Inc. (www.atsautomation.com) is the industry's leading designer and producer of turnkey automated manufacturing and test systems, which are used primarily by multinational corporations operating in a variety of industries including: automotive, computer/electronics, healthcare and consumer products. The Company also makes precision components and subassemblies using its own custom-built manufacturing systems, process knowledge and automation technology. Through Photowatt International S.A., and Spheral Solar Power Inc., ATS is an emerging leader in the rapidly growing market for solar energy cells and modules. ATS employs approximately 4,100 people at 26 facilities in Canada, the United States, Europe and Asia-Pacific. The Company's shares are traded on the Toronto Stock Exchange under the symbol ATA.

For further information, contact:
Jim Beretta
Marketing Manager
ATS Automation Tooling Systems, Inc.
250 Royal Oak Road
Cambridge, ON
Canada N3H 4R6
Phone:519-653-6500
Fax:519-653-6533
e-mail: info@atsautomation.com