Radiometer Probe measures brightness of 0.5 mm spot.
Press Release Summary: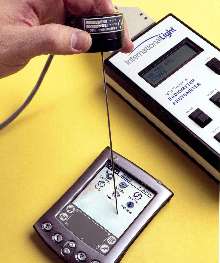 Hand-held Model IL1400A is self-programmable when miniature fiber optic PIN Probe is plugged in, and automatically displays brightness measurements in units such as fL and w/cm². Miniature probe consists of thin quartz fiber protected by surgical stainless steel tubing. Lengths up to 3 ft are available. Suitable for measuring small or hard-to-reach color LCDs and organic LEDs, radiometer/probe provides NIST traceable measurements from UV to near IR.
---
Original Press Release:
Portable Radiometer Probe Measures Brightness of 0.5mm Spot

A new probe for their portable IL1400A Radiometer/Photometer that performs NIST traceable measurements of fine spots within small color LCDs, organic LEDs (OLEDs), and avionic and automotive displays is being introduced by International Light, Inc. of Newburyport, Massachusetts.

The IL1400A Radiometer/Photometer is a hand-held instrument that can be equipped with a miniature fiber optic PIN Probe for measuring brightness and determining high spatial resolution in small regions down to 0.5 mm. Suitable for measuring small or hard-to-reach color LCDs and organic LEDs, this combination radiometer and probe can be supplied with a variety of filters for performing NIST traceable measurements from the UV to near IR.

Designed for ease-of-use, the IL1400A Radiometer/Photometer is self-programmable when the PIN Probe is plugged in and it automatically displays measurement results in units such as fL and w/cm². The miniature fiber optic PIN Probe consists of a thin quartz fiber protected by surgical stainless steel tubing. Lengths up to 3 ft. are available.

The IL1400A Radiometer/Photometer and PIN Probe are priced from $ 1,760.00, depending upon detector. Literature is available upon request.

For more information contact:

International Light, Inc.

Roy E. Grayzel, VP Sales & Marketing

17 Graf Rd.

Newburyport, MA 01950

(978) 465-5923 FAX (978) 462-0759

e-mail: ilsales@intl-light.com

www.intl-light.com
More from Electrical Equipment & Systems