Radiometer accumulates doses and controls lamp exposure.
Press Release Summary: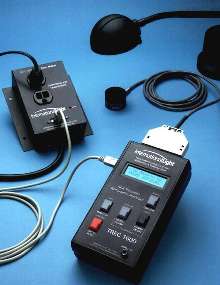 Portable IL TREC 1600 Total Radiant Energy Controller radiometer/photometer offers NIST traceable accuracy for exposures up to 5 years. Functioning as time-base lamp exposure controller, it shuts off lamps or shutters at programmed cumulated exposure. It is offered with UV-NIR detectors for applications where dose is important. Incorporating remote power relay module (able to be located 150 ft away), IL TREC 1600 runs on 110 Vac and includes battery back-up.
---
Original Press Release:
Programmable Radiometer Accumulates Doses, Controls Lamp Exposure

A new, portable radiometer/photometer that features NIST traceable calibrations, shuts off lamps or shutters at a programmed cumulated exposure, and can also function as a time-base lamp exposure controller is being introduced by International Light, Inc. of Newburyport, Massachusetts.

The IL TREC 1600 Total Radiant Energy Controller is a portable radiometer/photometer that will shut lamps off at a programmed cumulated exposure or operate as a time-based lamp exposure controller. Featuring NIST traceable accuracy for exposures lasting up to five years, it is offered with a full range of UV-NIR detectors for any application where dose is important.

Incorporating a remote power relay module which can be located up to 150' away, the IL TREC 1600 Total Radiant Energy Controller runs on 110 VAC and includes battery back-up for restart after a power failure. This versatile instrument is ideal for phototherapy, photostability, photobiology, photo-chemistry, and UV curing applications.

The IL TREC 1600 Total Radiant Energy Controller is priced from $2,195.00, depending upon detector required. Literature is available upon request.

For more information contact:

International Light, Inc.

Roy E. Grayzel, VP Sales & Marketing

17 Graf Rd.

Newburyport, MA 01950

(978) 465-5923 FAX (978) 462-0759

e-mail: ilsales@intl-light.com

www.intl-light.com