Radio Remote Control targets crane and hoist applications.
Press Release Summary: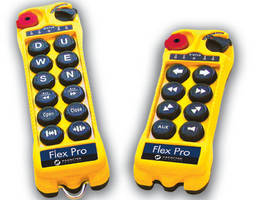 Utilizing crane's variable frequency drive control, Flex Pro Handheld Transmitter provides true stepless load control. Unit offers choice of 8 or 12 proportional button configurations, and adjustable speed control with 4 mode settings of 25, 50, 75, and 100% output. I-CHIP module enables universal transmitter to be programmed in field. Featuring rugged nylon housing, ergonomically designed control is NEMA 4/IP66-rated to withstand harsh, industrial environments.
---
Original Press Release:
Magnetek Introduces Flexible Proportional Control of Overhead Cranes and Hoists in a Handheld Transmitter
MENOMONEE FALLS, Wis. - Magnetek, Inc., (NASDAQ: MAG) introduces Flex Pro, a handheld radio remote control versatile enough for almost any crane and hoist application. Flex Pro offers operators a new way to interact with and manage their loads, providing the ability to maneuver with precise control and smooth operation. The Flex Pro handheld transmitter easily utilizes a crane's variable frequency drive control to provide true stepless load control. Magnetek first introduced this flexible, proportional radio control into the mobile hydraulic market three years ago, where it proved to be a great success. The Company is now offering this rugged, cost-effective radio control option to the overhead material handling market for crane and hoist applications. Flex Pro is an addition to Magnetek's comprehensive line of radio control products, lauded for their plug and play modular format. Magnetek's Enrange product line offers a flexible range of components that work seamlessly together, allowing customers to design control packages to meet exact specifications. This results in lower manufacturing and internal engineering costs and enhanced equipment performance. "Flex Pro offers our customers a precise control option for improving overhead crane performance, productivity and safety," Eugene Novak, Magnetek's Manager of Radio Controls, said. "The capability to proportionally moderate speed is just one of Flex Pro's flexible features and our custom engineered systems make even more possibilities available." For more information on the Flex Pro radio remote control visit www.magnetekmh.com. About Magnetek
Magnetek, Inc. is a leading provider of digital power and motion control systems used in overhead material handling, elevator, and energy delivery applications. The Company is North America's largest supplier of digital drive systems for industrial cranes, hoists and monorails. Magnetek provides Energy Engineered® drives, radio remote controls, motors, and braking and collision avoidance subsystems to North America's foremost overhead material handling crane builders. Magnetek is also the world's largest independent builder of highly integrated digital motion control systems for high-rise, high-speed elevators. Magnetek is headquartered in Menomonee Falls, Wis. in the greater Milwaukee area and operates manufacturing facilities in Pittsburgh, Pa., and Canonsburg, Pa., as well as Menomonee Falls.
Related