Radio Earmuff promotes worker safety and motivation.
Press Release Summary: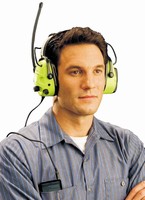 For optimal visibility, Bilsom® Radio Hi-Visibility earmuffs incorporate bright green earcups that contrast against dark settings and reflective headband that glows when exposed to light. Integral radio lets workers listen AM/FM stations, while AUX input jack allows for connection to portable audio devices. While listening volume cannot exceed 82 dB, Air Flow Control(TM) technology provides optimal attenuation across all frequencies when radio is in off position and delivers 25 dB NRR.
---
Original Press Release:

Bilsom's New Radio Hi-Visibility Earmuff Improves Worker Safety and Motivation



-- Bright green earcups, reflective headband improve worker visibility
-- New AUX input connects to MP3 players and other portable audio devices

Smithfield, RI -- In efforts to improve worker motivation and overall protection, Bilsom has extended its award winning high-visibility capabilities to its AM/FM Radio earmuff. Eye-catching bright green earcups and a reflective headband on the new Radio Hi-Visibility earmuffs provide clear visibility, day or night. At the same time, workers can enhance job satisfaction by listening to their favorite radio station or other portable audio device.

Radio Hi-Visibility earmuffs are an excellent solution for hearing protection, worker motivation, and visibility. Bright green earcups contrast noticeably against dark settings, especially in low lighting situations and inclement weather. Radio Hi-Visibility's exclusive reflective headband glows when exposed to light, increasing overall visibility and safety on the job.

The Bilsom® Radio Hi-Visibility earmuffs provide superior AM/FM sound, while its lightweight design and unique headband provide comfort for all-day wear. Its flexible antenna provides high-quality reception and is durable for industrial environments, both indoors and out. Also new to Radio Hi-Visibility is an AUX input jack, allowing the earmuff to connect to MP3 players and other portable audio devices. Both 3.5mm connection cable and 2 AA batteries are included with each Radio Hi-Visibility earmuff.

Often cited by hearing conservation program managers, the need to keep workers properly protected and motivated on the job is one of the biggest challenges in managing an OSHA-compliant program. With Radio Hi-Visibility's patented electronics, listening volume does not exceed 82 dB, allowing workers to listen at safe levels and be protected during their workday without additional noise exposure. Radio Hi-Visibility earmuffs are well suited for manufacturing, landscaping and other routine jobs where workers can use a radio to make their jobs more satisfying.

In addition to the AUX input, Radio Hi-Visibility earmuffs now feature Bilsom's patented Air Flow Control(TM) technology, which provides optimal attenuation across all frequencies when the radio is in the "off" position, and delivers a Noise Reduction Rating (NRR) of 25 dB. Other features include exclusive snap-in ear cushions for easy maintenance and Quick-Click height adjustment.

Bilsom was founded in Sweden in 1968 and leads the industry in developing innovative sound management technologies that are used in some of the most challenging environments in the world. Along with Howard Leight® Earplugs, Bilsom is part of the Bacou-Dalloz(TM) Hearing Safety Group, a world leader in hearing safety.

Bacou-Dalloz is the world leader in the design, manufacture and sale of personal protective equipment, offering a comprehensive range of safety products designed to protect people from hazards in the workplace. The Group specializes in head protection equipment (eye and face, respiratory and hearing protection), body protection equipment (clothing, gloves and footwear) and fall protection equipment. With a worldwide presence and over 6,000 people, Bacou-Dalloz endeavors to contribute to ongoing improvements in workplace health and safety by providing innovative, comfort-engineered products that workers want to wear. The Group's products are sold through a worldwide network of distributor partners for use in all sectors of activity (construction, manufacturing, telecommunications, homeland security, petrochemicals, medical, public services, etc.). Bacou-Dalloz is listed on the Premier Marché of the Euronext stock exchange in Paris, and is part of the SBF 120 index.

For additional product information, contact:
Bacou-Dalloz Hearing Safety Group
7828 Waterville Road
San Diego, CA 92154
Tel: 800/430-5490
Fax: 401/232-3110
email: rbessette@bacou-dalloz.com
http://hearingportal.com

Related