Radiation Tolerant 36 V In-Amps integrate differential ADC driver.
Press Release Summary: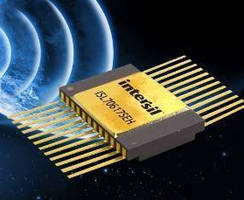 Wafer-by-wafer guaranteed to 75 krad (Si) with low dose rate exposure of 10 mrad/sec, ISL70617SEH differential input, rail-to-rail output instrumentation amplifier (in-amp) serves communication satellite applications. Silicon on insulator process provides SEL and SEB robustness of 60 MeV in heavy ion environments, while <10 µsec SET performance eliminates need for extra filtering. ISL70517SEH offers similar features but implements differential input and rail-to-rail single-ended output.
---
Original Press Release:

Intersil Announces Industry's First Rad Tolerant 36V Instrumentation Amplifier with Integrated Differential ADC Driver



ISL70617SEH provides highest sensor signal processing performance for communication satellite applications



MILPITAS, Calif. -- Intersil Corporation (NASDAQ: ISIL), a leading provider of innovative power management and precision analog solutions, today introduced the industry's first radiation tolerant 36V instrumentation amplifier (in-amp) featuring an integrated differential analog-to-digital converter (ADC) driver. The high performance ISL70617SEH differential input, rail-to-rail output in-amp delivers the industry's highest signal processing performance for low-level sensor telemetry data critical to communication satellites. Its high integration and best-in-class performance reduces system size, weight and power (SWAP) costs, and accelerates time to market.



The ISL70617SEH enables higher common-mode rejection ratio (CMRR) and power supply rejection ratio (PSRR) than the competition, at all gain settings. Designers can easily program the in-amp's gain from 0.1 to 10,000 using two external resistors. The device is wafer-by-wafer guaranteed to 75krad (Si) with a low dose rate exposure of 10mrad/sec, which more closely resembles the space environment than the high dose rate testing used with competitive devices. The ISL70617SEH leverages Intersil's proprietary silicon on insulator process to provide single event latch-up (SEL) and single event burnout (SEB) robustness of 60MeV in heavy ion environments. And its single event transient (SET) performance of <10usec eliminates the need for extra filtering.



The ISL70517SEH joins the ISL70617SEH, and offers similar features but implements a differential input and rail-to-rail single-ended output. Both in-amps allow designers to power the input/output stages from different supplies using individual power supply pins. Designers are able to take the input signals riding on a high common-mode voltage and level shift them to a low voltage device. For example, Intersil's in-amps can protect downstream ICs from high voltage signals by tying the amplifier's rail-to-rail output to an ADC's low voltage power supply. This also preserves the ADC maximum input dynamic range and eliminates ADC input overdrive.



"The ISL70617SEH is the space industry's first true differential-ended ADC driver," said Philip Chesley, senior vice president of Precision Products at Intersil. "This extends our portfolio of rad hard products exceeding the mission assurance needs of military and commercial communication satellites."



Key Features and Specifications of ISL70617SEH and ISL70517SEH

Low input offset of 30µV, and low input bias current of 0.2nA

Excellent CMRR and PSRR of 120dB typical for attenuating, gaining and filtering sensor signals to improve signal quality

Wide operating range from ±4V to ±18V covers the majority of analog supply rails

Closed loop -3dB BW 0.3MHz (AV = 1k) to 5.5MHz (A = 0.1)

Extended operating temperature range of -55°C to +125°C

Electrically screened to DLA SMD# 5962-15246

Acceptance tested to a higher dose level of 75krad(Si), wafer-by-wafer

Industry's lowest dose rate (0.01rad(Si)/s) radiation tolerance of 75krad(Si)

SEB LETTH (VS = ±18V) immune up to 60MeV•cm2/mg



The ISL70617SEH and ISL70517SEH can be combined with the ISL71830SEH 16-channel and ISL71831SEH 32-channel 5V multiplexers, ISL71590SEH temperature sensor, ISL71090SEH25 voltage reference, ISL75052SEH 1.5A LDO regulator, ISL75051SEH 3A LDO regulator, and op amps such as the ISL70444SEH, ISL70244SEH, ISL70417SEH, ISL70218SEH, ISL70227SEH, ISL70419SEH to support a telemetry signal chain with superior radiation tolerant performance.



Availability

The ISL70617SEH differential I/O instrumentation amplifier and ISL70517SEH single-ended instrumentation amplifier are available now in 24-lead ceramic flatpack packages. Evaluation boards are available to evaluate device features and performance, and SEE and total dose testing reports are available for both devices. For more information on the ISL70617SEH and ISL70517SEH, please visit: www.intersil.com/products/isl70617seh.



Intersil at NSREC 2016

Come see Intersil's radiation tolerant ICs in booth #37 at the IEEE Nuclear and Space Radiation Effects Conference (NSREC) in Portland, Oregon, July 11-15.



About Intersil

Intersil Corporation is a leading provider of innovative power management and precision analog solutions. The company's products form the building blocks of increasingly intelligent, mobile and power hungry electronics, enabling advances in power management to improve efficiency and extend battery life. With a deep portfolio of intellectual property and a rich history of design and process innovation, Intersil is the trusted partner to leading companies in some of the world's largest markets, including industrial and infrastructure, mobile computing, automotive and aerospace. For more information about Intersil, visit our website at www.intersil.com.



Intersil and the Intersil logo are trademarks or registered trademarks of Intersil Corporation. All other brands, product names and marks are or may be trademarks or registered trademarks used to identify products or services of their respective owners.



CONTACT: Mark Alden, Intersil Corporation, (408) 546-3402, malden@intersil.com

Related