Radiation Shields protect against beta and gamma radiation.
Press Release Summary: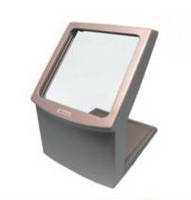 Designed for receiving and preparing unit doses of high-energy radionuclides, L-Block Shields provide choice of 1.5 or 2 in. thick lead shielding in front and 1 in. thick lead in base. Tabletop Shield, designed with .5 in. thick lead front wall, provides protection while working with mid- to low-energy beta and gamma radioactive materials. Framed in cast aluminum with powder-coat finish, tabletop model incorporates stainless steel work surface, lead glass window, and Plexiglas® panel.
---
Original Press Release:

MarShield Announces New Line of Table-Top Radiations Shields and L- Block Radiation Shields



MarShield is proud to present their new Line of Table-Top Radiations shields and L- Block Radiation Shields.



Designed for receiving and preparing unit doses of high-energy radionuclides, the L-Block Shields provide a choice of 1.5" or 2" thick lead shielding in front, and 1" thick lead in the base, while the Tabletop Shield provides protection while working with mid to low-energy beta and gamma radioactive materials.



For Beta and Gamma Radiation

This Tabletop Shield provides protection while working with mid to low-energy beta and gamma radioactive materials. The shield is designed to resist tipping and incorporate shielding overlap to eliminate radiation streaming. The entire interior work surface is one piece stainless steel for easy clean up and decontamination. The base of the work surface is designed with a spill proof lip for fast, contained clean up.



The front wall of the shield is constructed of .5" (1.2 cm) thick lead and completely encased with stainless steel on the work surface side and powder-coated cast aluminum on the technologist side.  A lead glass window (2 mm LE) and a Plexiglas® panel are included. This shielding combination attenuates gamma and beta radiation, and errant bremsstrahlung, with unimpaired viewing of the work area. An optional 2 mm LE lead glass window is available to achieve 4.0 mm lead equivalency.



Features

Optional side and bottom shields offer additional protection. Manufactured to be durable, the Beta/Gamma Tabletop Shield is framed in cast aluminum with a powder-coat finish.

• Shields both Beta and Gamma Radiation

• Seamless Stainless Steel work area for easy cleaning and decontamination

• Work surface is designed with a spill proof lip for fast, contained clean up



Specifications

Top Shield

Lead Shielding: .5" thick (1.2 cm)

Dimensions: See drawings featured.

Viewing Panel:

Lead Equivalency: 2 mm (an optional lead glass panel can be paired to achieve 4.0 mm lead equivalency)

Clear Plexiglas®: For beta Shielding

Viewing Area: 11.1" x 11.1" (28.2 x 28.2 cm)

Finish: Silver powder coat

Shipping Weights:

042-224: 79 lb. (35.8 kg)

042-226: 10 lb. (4.5 kg)

042-227: 42 lb. (19 kg)

042-228: 10 lb. (4.5 kg)



Side Shield

Lead Shielding: .25" thick (.64 cm)

Finish: Stainless Steel

Dimensions: See drawings featured

Shipping Weight: 42 lb (19 kg)



About Marshield

Since 1979 MarShield™ known for its expertise in Custom Radiation Protection, Shielding and Storage h is an experienced and widely proven partner for corporations, institutions, the military and government seeking a full-service provider of radiation protection solutions.



MarShield™ lead radiation protection, storage and shielding products have brought value to various commercial markets including nuclear, medical, veterinary, and dental as well as institutions and government bodies engaged in scientific research through to military operations and national defense. Today MarShield™ services clients in the USA, Canada and targeted international markets worldwide.



When success must be absolutely assured, people trust MarShield™ to provide guaranteed optimal lead radiation protection in every product we manufacture.



For more information please contact;

Dave Holden: dholden@marshield.com

4140 Morris Drive, Burlington, Ontario, Canada, L7L 5L6

Telephone 905-637-3862     

Facsimile: 905-637-8841

Continental Toll Free: 1-800-381-5335     

International: +1-905-637-3862     







More from Architectural & Civil Engineering Products