Radiation Dose Measuring Kit suits smaller facilities.
Press Release Summary: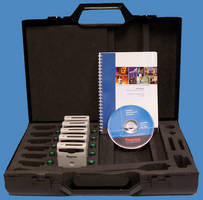 Thermo Scientific Dosimetry Solution is used to monitor and keep track of direct or indirect exposure to radiation in facilities where employees face exposure as part of their regular routine. Components include electronic personal dosimeters (EPDs), EPD configuration software, and reader that records EPD data. Working together, they enable automatic monitoring to help ensure healthy work environment. Kit can be customized for specific application requirements.
---
Original Press Release:

Thermo Fisher Scientific Delivers an 'All-in-One' Dosimetry Solution for Smaller Facilities that Utilize Radiation Equipment in Everyday Operations or Practices



Smaller labs, clinics or dentist offices now have a simple, easy-to-use system to monitor workers' direct or indirect exposure to radiation, ensuring a safer and properly regulated work environment

OAKWOOD VILLAGE, Ohio - Thermo Fisher Scientific Inc., the world leader in serving science, has released the Thermo Scientific Dosimetry Solution - a complete, all-in-one radiation dose measuring kit designed for smaller facilities or operations where employees might be exposed to radiation as part of their normal workplace routine. These facilities include: medical walk-in clinics, radiological labs, veterinary offices, dental offices, ambulance companies, first responders, and research laboratories.

Monitoring radiation exposure is important for both health and liability purposes
"Take, for example, a dental office where X-rays are being done all the time," said Iuliana Nita, product line manager for personal dosimetry in the Radiation Measurement & Security Instruments business of Thermo Fisher Scientific. "The staff there is exposed to this invisible radiation, day-in and day-out - potentially over the course of many years. What the Thermo Scientific solution does is to keep track of every worker's exposure level or radiation dosage utilizing our simple, easy-to-use dosimetry kit. This automatic monitoring not only helps to ensure a healthier work environment but also keeps a record of every person's accumulated exposure in case that information is ever needed in the future. The kit is really an indispensable tool for these facilities, as it provides protection, for both staff and management."

A "dose" is the measure of the absorbed radiation in bodily tissue resulting from direct or indirect exposure to a radiation source such as an X-ray. Too much exposure or dose can impair a person's health or even lead to life-threatening illnesses.

An "all-in-one" kit that contains all the necessary parts and eliminates guesswork
The Thermo Scientific Solution contains all the pieces needed to run a small-scale radiation exposure monitoring program: electronic personal dosimeters (EPDs) to be worn by each staff member who works with or near radiation sources, an intuitive software program to set up or configure the EPDs, and a reader instrument that records the EPD data - all packaged in a rugged carrying case. "With our solution, a customer doesn't need anything else but what comes in the kit. In other words, we take all of the guesswork out of putting together local dosimetry monitoring for the smaller facility," said Nita.

The Dosimetry Solution kit can be customized for specific applications
Depending on the need of the customer, a Thermo Scientific kit can contain dosimeters that measure for beta/gamma, neutron or gamma-only radiation. Customers typically can order from 5 to 12 EPDs per kit to accommodate the size of their office, lab or clinic. Moreover, no experience in dosimetry is required to operate the EPDs, saving on training expenses.

For more information about Thermo Fisher Scientific's radiation detection solutions, please visit http://www.thermo.com/rmp.

Thermo Scientific is part of Thermo Fisher Scientific, the world leader in serving science.

About Thermo Fisher Scientific
Thermo Fisher Scientific Inc. (NYSE: TMO) is the world leader in serving science, enabling our customers to make the world healthier, cleaner and safer. With 2008 revenues of $10.5 billion, we have approximately 34,000 employees and serve over 350,000 customers within pharmaceutical and biotech companies, hospitals and clinical diagnostic labs, universities, research institutions and government agencies, as well as environmental and industrial process control settings. Serving customers through two premier brands, Thermo Scientific and Fisher Scientific, we help solve analytical challenges from routine testing to complex research and discovery. Thermo Scientific offers customers a complete range of high-end analytical instruments as well as laboratory equipment, software, services, consumables and reagents to enable integrated laboratory workflow solutions. Fisher Scientific provides a complete portfolio of laboratory equipment, chemicals, supplies and services used in healthcare, scientific research, safety and education. Together, we offer the most convenient purchasing options to customers and continuously advance our technologies to accelerate the pace of scientific discovery, enhance value for customers and fuel growth for shareholders and employees alike. Visit www.thermofisher.com.

More from Chemicals & Gases