Radial Leaded Varistors protect against high peak surges.
Press Release Summary: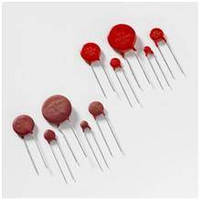 Providing high energy absorption capability and resistance to temperature cycling, LV UltraMOV™ Series protects low voltage DC applications against peak surges, including lightning strike interference, system switching transients, and abnormal fast transients from power source. RoHS-compliant units are lead-free, halogen-free, and available with optional phenolic coating. Operating up to 125°C, varistors are suited for LED lighting drivers, mobile phone chargers, and security systems.
---
Original Press Release:

LV UltraMOV Varistors from Littelfuse Offer Higher Surge Current Ratings in Smaller Disc Sizes



Designed to protect lower voltage DC applications against high peak surges



CHICAGO, — Littelfuse, Inc., the global leader in circuit protection, has introduced the LV UltraMOV™ Series of low voltage, high surge current, radial leaded varistors. They provide an ideal circuit protection solution for lower DC voltage applications by offering higher surge ratings than ever before available in such small disc sizes. Their high peak surge current rating provides superior protection against high peak surges, including indirect lightning strike interference, system switching transients and abnormal fast transients from the power source. Typical applications of these devices include LED lighting drivers, cordless phones, wireless base stations, audio devices, mobile phone chargers, security systems, fire alarm systems and automation control systems (PLCs).



"The LV UltraMOV Series is unrivaled in the industry in terms of its surge current rating, energy handling capabilities, and ability to withstand multiple strikes; no competitive product comes close," said Johnny Chang, Product Manager, LV UltraMOV Series Varistor product line. "For example, a 10mm LV UltraMOV Series Varistor offers a maximum surge current rating that's four times higher than  a standard MOV of the same size."



The LV UltraMOV Series Varistors offer these key features and benefits:



Features

• Breakthrough in low voltage varistor design provides high peak surge current rating

• Reduced footprint and volume required for surge protection

• High energy absorption capability

• High resistance to temperature cycling

• Optional phenolic coating

• Lead-free, halogen-free, and RoHS compliant



Benefits

• Increased long-term reliability due to the ability to handle higher surges over the end product's lifetime

• More board space is available for higher value functional components

• Lower weight and cost for end product from use of a smaller disc

• Higher surge handling density in critical surge protection device module solutions

• Higher operating temperature range—up to 125°C

• Environmentally friendly product



Availability

The LV UltraMOV Series Varistors are available in bulk, tape and reel, and ammo packaging. Samples are available now for bulk orders; sample requests can be placed through authorized Littelfuse distributors worldwide. For a listing of Littelfuse distributors, please visit Littelfuse.com.



For More Information

Additional information on this innovative varistor designed to protect lower voltage DC applications is available on the LV UltraMOV Product Page and LV UltraMOV datasheet. If you have technical questions, please contact: Johnny Chang, Product Manager, LV UltraMOV Series Varistors, jchang@littelfuse.com



About Littelfuse

Founded in 1927, Littelfuse, Inc., the worldwide leader in circuit protection, offers the industry's broadest and deepest portfolio of circuit protection products and solutions. Littelfuse devices protect products in virtually every market that uses electrical energy, from consumer electronics to automobiles to industrial equipment. In addition to its Chicago, Illinois, world headquarters, Littelfuse has more than 30 sales, distribution, manufacturing and engineering facilities in the Americas, Europe and Asia. Technologies offered by Littelfuse include Fuses; Gas Discharge Tubes (GDTs); Positive Temperature Coefficient Devices (PTCs); PulseGuard® ESD Suppressors; SIDACtor® Devices; Silicon Protection Arrays (SPA®); Switching Thyristors; TVS Diodes and Varistors. The company also offers a comprehensive line of highly reliable Electromechanical and Electronic Switch and Control Devices for commercial and specialty vehicles and Sensors for automobile safety systems, as well as Protection Relays and underground Power Distribution Centers for the safe control and distribution of electricity.



For more information, please visit the Littelfuse website: www.littelfuse.com 

More from Construction Equipment and Supplies