Radar Sensors solves complex vehicle detection challenges.
Press Release Summary: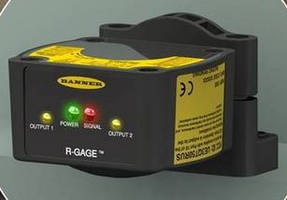 Comprised of adjustable-field and retroreflective models, R-GAGE(TM) QT50R sensors utilize Frequency Modulated Continuous Wave radar to detect moving or stationary objects such as trains, cars, trucks, and cargo. Adjustable-field model emits defined beam of high-frequency radio waves from internal antenna, which processes signal reflected back to receiving antenna. Detecting objects located in user-defined distance, retroreflective sensor ignores any objects and background beyond setpoint.
---
Original Press Release:

Banner R-GAGE(TM) QT50R Adjustable-Field and Retroreflective Radar Sensors Solve Diverse Vehicle Detection Challenges



Minneapolis, MN-Banner Engineering announces the addition of a retroreflective model to the company's industry-pioneering line of R-GAGE(TM) QT50R radar sensors. Now with both adjustable-field and retroreflective models available, the R-GAGE QT50R can solve more diverse and complex vehicle detection applications-effectively detecting trains, cars, trucks and cargo alike. Designed with the challenges of train detection in mind, the QT50R utilizes Frequency Modulated Continuous Wave (FMCW) radar to provide reliable detection of moving or stationary objects in areas where photoelectric, ultrasonic and magnetic sensors fall short.

"Magnetic sensors may be affected by the electric current of trains, while ultrasonic sensors are susceptible to the interference caused by the wind of passing trains-which can 'blow away' the sensor's return signal," said Ashley Wise, development engineer for Banner Engineering. "Optical sensors prove ultimately impractical due to the dirt and dust that accrues, eventually inhibiting the sensor's ability to deliver accurate results." Added Wise, "In the QT50R radar sensor, we attained a detection solution that proves both effective and efficient. The functionality, utility and cost-efficiency of the QT50R sets it apart from competitive solutions."

The QT50R adjustable-field radar sensor emits a well-defined beam of high-frequency radio waves from an internal antenna, which processes the signal reflected back to the receiving antenna. The sensor is designed to detect objects located within a user-defined distance, ignoring objects and any background beyond the setpoint. Common applications of the QT50R adjustable-field radar sensor include:

Detection of vehicles on roads and near intersections

Boat detection for locks and dams

Proximity detection for large shipyard cranes and cargo

Car counting for parking ramps, gates and drive-thrus

Subway and light rail logistics

The recently developed QT50R retroreflective model complements the adjustable-field model by effectively sensing stationary targets with poor or no radar reflection through the use of a reference signal, or retro-target. Emitting the same high-frequency waves as the adjustable-field model, the QT50R retroreflective radar sensor delivers a narrow effective sensing beam and ignores objects in the background beyond the retroreflective target-creating a more focused sensor. Additionally, the retroreflective model provides the ability to sense targets up to the sensor face, thus eliminating any dead zone. Common applications of the retroreflective model include:

Tollbooths

Gate control

Parking ramps

Train detection and shipyard logistics

Truck trailer detection at loading docks

QT50R radar sensors offer simple sensing field configuration, operating within Industrial, Scientific, and Medical (ISM) telecommunication bandwidth with no special license required. Their rugged IP67 housing is built to withstand harsh conditions, making it impervious to environmental elements such as dust, rain, fog, snow, sun and wind.

The QT50R's maximum sensing range depends on the size and shape of the target; however, the standard adjustable-field radar sensor peaks at 15 m. Customizable sensors are also available with ranges up to 40 m and myriad advanced capabilities, including two independent sensing zones, narrower beam patterns, analog output, velocity/direction, heartbeat for health monitoring, and higher gain antennas for more sensitive detection.

Output properties and sensing fields can be configured with simple DIP switches. Retro-target TEACH-IN is performed via remote TEACH. Both radar sensors are also available in cabled or M12 quick-disconnect models.

About Banner. Banner Engineering is the world's leading manufacturer of photoelectric and ultrasonic sensors, vision sensors, wireless networks, indicator lights, electronic machine guarding systems, fiber optic assemblies and precision measurement systems.

For further information, contact Banner Engineering Corp., 9714 Tenth Avenue North, Minneapolis, MN 55441. PH: 888.373.6767 (Toll-free North America), or 001.763.544.3164 (International). FAX: 763.544.3213. Email: sensors@bannerengineering.com. E-commerce: bannerengineering.com/buyonline; Web: www.bannerengineering.com.

More from Fluid & Gas Flow Equipment