Radar Level Meters feature modular design.
Press Release Summary: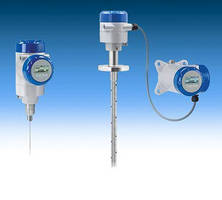 Able to operate from tank roof or recessed space, 2-wire loop-powered DR 2000® Guided Wave Radar Level Meter performs accurate level measurement even when product surface is agitated or covered with layer of foam. Utilizing frequency modulated continuous wave technology, 2-wire DR 5200® Open Air Radar Level Meter provides highest accuracy in non-contact meter. Both modular units are SIL2 compliant to IEC 61508 for safety-related systems and suitable for storage tanks and process vessels.
---
Original Press Release:

Ametek Drexelbrook Offers Two New Highly Flexible Radar Level Measurement Solutions



DR 2000 Guided Wave Radar Level Meter and DR 5200 Open Air Radar Level Meter



AMETEK Drexelbrook®, the leader in level measurement technology, now offers two new radar-based level measurement solutions that provide increased installation flexibility along with accuracy and reliability: the DR 2000® Guided Wave Radar Level Meter and the DR 5200® Open Air Radar Level Meter.



The DR 2000® is a 2-wire, loop-powered guided wave (time domain reflectometery) radar level meter that is the perfect solution for applications such as storage tanks, process vessels, open channel flow, water and wastewater facilities. The level meter's innovative housing and sensor design provides users with a great deal of flexibility in terms of installation, access and operation.



The meter's modular design allows it to be installed and operate from a tank roof, in a recessed space or in a building or structure with a low roof deign. A remote version is available that features a separate converter with display, which can be mounted and operated from as much as 100 meters away from the sensor location. Drexelbrook is currently the only manufacturer that offers this option.



The DR 2000 performs accurate level measurement even when the product surface is agitated or covered with a layer of foam. The unit is designed according to IEC 61508 for Safety Integrity Level 2 (issued by an independent certifying body).



The DR 5200® is a 2-wire open air radar level meter that utilizes frequency modulated continuous wave technology that provides the highest accuracy in a non-contact level meter. The DR 5200 also offers a flexible, modular housing design, a separate signal converter with display and quick coupling system.



The unit is the perfect choice for storage tanks and process vessels. It also is SIL2 compliant to IEC 61508 for safety-related systems. Gasket-free PP and PTFE wave horn antennas ensure accurate level measurement of corrosive media. The device is suitable for all industries, especially chemical, oil and gas, wastewater, metals, minerals and mining.



The modular design of the DR 2000 and DR 5200 makes them an economic and reliable solution for a number of common level measurement applications. The modular design allows for 360° rotation to make the display screen easier to read in hard to access installation. A quick coupling system allows removal of the converter under process conditions. Proprietary software dynamically eliminates false reflections caused by product build up or other disturbances.



Each device is calibrated for a wide variety of applications with housing options available in aluminum or stainless steel. There is also an extensive selection of probes suitable for a comprehensive list of applications.



AMETEK Drexelbrook is an acknowledged leader in level measurement with more than 50 years of experience. Its level measurement solutions include RF capacitance / admittance, TDR/GWR, radar, ultrasonic, magnetostrictive, hydrostatic, vibration, conductive and float devices used in a wide range of industries.



AMETEK Drexelbrook is a unit of AMETEK, Inc., a leading global manufacturer of electronic instruments and electromechanical devices with annual sales of $3.6 billion. For more information, contact AMETEK Drexelbrook, 205 Keith Valley Road, Horsham, PA 19044. Telephone: 215-674-1234 or Fax: 215-674-2731. Website: www.drexelbrook.com



AMETEK DREXELBROOK

205 KEITH VALLEY RD., HORSHAM, PA 19044-1499

www.drexelbrook.com

Contact: Jeremy Bland  (215) 293-4190



More from Material Processing