Rack Mount Terminal Drawer features 20 in. LCD monitor.
Press Release Summary: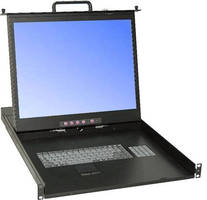 KD700 features drawers are completely of steel finished with a black powder coating and comes with 106-key keyboard and 2-button touchpad mouse. TFT LCD display provides 1,600 x 1,200 pixel resolution, 0.255 mm dot pitch, contrast ratio of 1000:1, and brightness of 300 cd/m
2
. On-screen display function allows users to adjust images on screen, and 2 thumbscrews help lock screen when not in use. Rugged construction is intended for rack mount and military market.
---
Original Press Release:

20-Inch Rack Mount 1U LCD Monitor Keyboard Drawer



JUNE 26, 2009, Walnut, California-based Acnodes Corp. today introduced a new, 1U rack mount terminal drawer designed with a 20-inch 1600x1200 high resolution LCD montior, keyboard and touch-pad for standard 19-inch rack cabinet.

The 20.1 inch TFT LCD display provides 1600 x 1200 pixel resolution, .255mm dot pitch, a contrast ratio of 1000:1 and a brightness of 300cd/m2. An optional DVI video input is available.

With a viewing size of 20.1", the KD700 presents an ample display area and vivid sharp images for industrial applications. Its on-screen display function allows users to adjust the images on screen with ease. Along with the 20-inch display, the KD 7200 also has an integrated 106-key keyboard and two-button touchpad mouse.

The drawers are made completely of steel finished with a black powder coating. Two thumbscrews lock the screen in place when not in use. The KD7200's rugged construction is intended for the rack mount and military market requiring high end graphic capabilities.

For more information on these products call (909) 598-7388or visit the Acnodes website at www.acnodes.com.

Pricing and Availability

Pricing for the KD7200 starts at $1,325.00 and is available for immediate delivery.

Additional KD7200's details can be found online: [http://acnodes.com/zebproductdetail_165.htm]

To see another rack mount monitor products can be found [http://acnodes.com/zebcategory_3.htm]

To buy this product or for more information call (909 ) 598-7388or visit the Acnodes website at www.acnodes.com.

Company Name: Acnodes Corporation

Phone: 909-598-0108

Contact Name: Tony Han

E-mail: tony@acnodes.com

More from Laboratory and Research Supplies and Equipment