Rack Mount PDUs offer sequencing, remote monitoring.
Press Release Summary: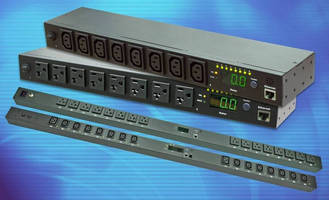 Able to be installed in 19 in. rack, Smart Switched Rack PDU comes in horizontal and vertical models with 8 or 16 outlets that can be sequentially started, controlled, and monitored remotely. PDU monitors devices plugged into it, and user-defined alarm threshold for each outlet warns end-user via email, trap, or audible alarm in case of alert. All models, which are UL- and cUL-listed and have CE approval, feature 0.1 A resolution with range of 0-20 A and precision of ±2% ±0.1 A.
---
Original Press Release:

Orion Fans Develops Power Distribution Unit with Remote and Sequencing Capabilities



Smart-switched power distribution unit delivers sequential start, remote-control to any standard 19" rack at the lowest cost...

DALLAS, TX-Dallas-based Orion Fans, a division of Knight Electronics and a leading manufacturer of standard and custom AC and DC fans, trays and accessories, has developed a new line of smart switched rack power distribution units (PDUs). Often used in computer data centers and other electrically intensive applications, Orion Fans' Smart Switched PDU features outlets that can be sequentially started, controlled and monitored remotely. The PDU monitors the devices plugged into it and sends an e-mail alert if an anomaly in power occurs. Capable of being installed in any 19-inch rack, the Smart-Switched PDU is the lowest cost unit of its kind on the market for a unit with these features.

"In order to keep our fan trays cooling at an optimal level, we first considered developing monitoring capabilities in an AC fan tray, but quickly realized that the cost would have been prohibitive," said John Knight, vice president of Knight Electronics/Orion Fans. "The Smart-Switched PDU are a cost-effective alternative for the customer to designed-in fan tray intelligence, and it provides added peace of mind for remote servers with its smart function, remote monitoring/control and sequencing capabilities."

The Smart Switched PDU is available in horizontal and vertical models that feature a digital true RMS current meter and remote power monitoring by meter, web, SNMP and each unit comes with free bundled software. Each individual outlet has its own control and, in the event of an alert, the user-defined alarm threshold will warn the end-user via email, trap or audible alarm. With http, https, SNMP, DHCP and UDP protocols, (in addition to the user-defined on/off sequence), this PDU series has every feature needed for remote applications at the lowest cost.

Models OSP-V-16-23-16-N1 and OSP-V-20-11-16-N1 are 16-outlet vertical PDUs that measure 56 x 1245 x 44mm and weigh 4kg. The resolution is rated at 0.1A with a range of 0A to ~20A, and precision is ±2% ±0.1AMP. The OSP-v-16-23-16-N1 features a nominal voltage of 230V while the OSP-V-20-11-16-N1's nominal voltage is rated at 115V.

Models OSP-H-16-23-08-N1 and OSP-H-15-11-08-N1 are eight-outlet horizontal PDUs that measure 90 x 432 x 44mm and weigh 2kg. The resolution is rated at 0.1A with a range of 0A ~20A, and precision is ±2% ±0.1AMP. The OSP-H-16-23-08-N1 features a nominal voltage of 230V while the OSP- H-15-11-08-N1's nominal voltage is rated at 115V.

All models are UL and cUL listed and have CE approval. Industrial user pricing for the Smart Switched PDU starts at $330.00 per unit, and lead times are stock to eight weeks. For more information about Orion's comprehensive line of AC and DC fans, fan accessories, fan trays and blowers, contact an authorized Orion distributor; or contact Orion Fans at 10557 Metric Dr., Dallas, TX, 75243; call 800-323-2439, e-mail at dluna@orionfans.com, or visit Orion Fans on the web at http://www.orionfans.com/.

About Orion Fans
Orion Fans, a division of Knight Electronics, Inc. is an ISO9001/2008 global manufacturer of standard and custom AC and DC fans, fan accessories, fan trays, and blowers. Established in 1995, Orion Fans supplies quality engineered and competitively priced cooling products and assemblies to OEMs worldwide. The company has engineering and manufacturing facilities in the United States, Europe, and Asia.

For more information, call 919-872-8172, or e-mail zac.linton@btbmarketing.com

More from Agricultural & Farming Products