Rack and Pinion Hoist complies with safety regulations.
Press Release Summary: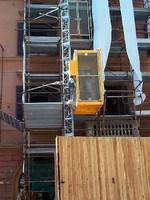 Designed to ensure safety when lifting general building materials, Max Climber(TM) 2000 travels up to 400 ft and accommodates payload of 2,000 lb. It comes with pushbutton pendant and upper and lower limit switch assembly, enabling up and down movement that instantly stops when limit switches are activated. Ground personnel safety alert enables hoist to automatically stop 10 ft above ground, while separate over-speed brakes serve as emergency back-up and prevent free-falling.
---
Original Press Release:

Beta Max Offers the Max Climber(TM) 2000 Rack & Pinion Lifting System for the Safety Market



Beta Max Inc., a leading provider of affordable material lifting solutions, introduces its Max Climber(TM) 2000 Rack & Pinion Hoist. Designed to ensure optimum safety when lifting general building materials in the construction, restoration, scaffolding, facility maintenance and power plant markets, the Max Climber 2000 is equipped with premium features that allow operators to easily and safely use the hoist with better control.

The Max Climber 2000 has been designed in compliance with current safety regulations and comes standard with a push button pendant and upper and lower limit switch assembly, enabling easy up and down movement that instantly stops when the limit switches are activated. The hoist comes equipped with a downward interruption sensor that will automatically stop operation if it senses a foreign object in its path. Additionally, a ground personnel safety alert comes standard, enabling the hoist to automatically stop 10 feet above ground.

Separate over-speed brakes serve as the emergency back-up and prevent free-falling. If the hoist is descending more quickly than recommended, the over-speed brakes automatically activate and stop the hoist. Overload sensing devices prevent the hoist from operating and alert operators when it becomes too hot, ultimately preventing hoist burnout.

The hoist can travel up to 400 feet and can accommodate a maximum payload of 2,000 pounds. Standard basket size is a space-efficient 57 by 52 inches, but may be customized to fit individual customer size requirements.

The Max Climber 2000 is available with mounting clamps that can be used to attach to scaffolding or anchor to a building. Optional wheels and truck-loading device allow for easy transport in any industry. For faster and convenient service, the Max Climber 2000 also features a removable controller and manual break release lever.

All Beta Max Hoist Systems meet or exceed ANSI and OSHA specifications.

About Beta Max
Beta Max Inc., of Melbourne, Florida, has been providing the construction and restoration industries with alternate methods for lifting buildelbourne, Florida, has been providing the construction and restoration industries with alternate methods for lifting

More from Material Processing