R&M Energy Systems Features Power Sections, Surface Pumps and Closures at the 2007 Offshore Europe Conference and Exhibition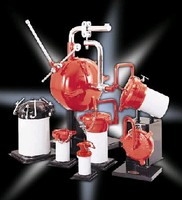 Willis, Texas - R&M Energy Systems, a division of the Fluid Management Group of Robbins & Myers, Inc., will exhibit at the 2007 Offshore Europe Oil & Gas Conference and Exhibition, September 4 -7 at the Aberdeen Exhibition and Conference Centre in Aberdeen, Scotland.

The Company will exhibit the Moyno® ERT(TM) Power Section that features an even rubber thickness stator, significantly improving the overall performance of power sections used in down-hole drilling applications. Applying an even thickness of rubber to the stator contour and supporting each lobe with steel minimizes the rubber's degree of dimensional change during use due to temperature, chemical attack and loading. This design allows Moyno ERT Power Sections to reliably produce up to 100% more power output compared to conventional stators. For the user, this higher power density and improved reliability translate to higher ROPs.

An additional benefit of the ERT's high power density is the ability to use shorter power sections with performance outputs comparable to that of longer conventional product. This can improve the motor's directional response as well as MWD and LWD measurement quality by placing their sensors closer to the bit. Moyno ERT Power Sections are also a perfect choice to drive RSTs.

The Moyno® 2000 Surface Pump will also be exhibited. Moyno Progressing Cavity surface pumps provide the ultimate in versatility as they are capable of handling clean, clear liquids as well as thick, abrasive, and corrosive fluids and slurries, even with viscosities over 1,000,000 cps. The product line includes models capable of generating flow rates up to 2,500 gpm and pressures to 2,100 psi. Moyno pumps are well known for low maintenance and long service life which result in low overall total cost of ownership. Their high performance, progressing cavity design results in a gentle, low shear discharge, while their pulsation-less flow rate improves metering capabilities.

Typical Moyno Progressing Cavity Pump applications include the following:
o Drilling mud
o Onshore and offshore and heavy crude transfer
o Sales oil
o Chemical injection
o Treater batteries
o Oil skim
o Water injection

Also featured at the show will be Yale® Figure 500(TM) and 500R(TM) Quick-Opening Closures which have compiled over 45 years of reliable field service thanks to their rugged construction and inherent safety features. Yale closures accommodate most pipeline and vessel applications, with configurations designed for horizontal, vertical and angled installations. Easily field-weldable, Yale closures achieve an airtight seal with an elastomeric O-ring set into the face of the hub. Standard materials of construction conform to ASTM specifications and are permitted under ASME Section VIII, Division 1 Boiler and Pressure Vessel Code.

Additional display equipment includes non-threaded, internal door SENTRY® Pipeline and Vessel Closures. All pressure-retaining components on the SENTRY Closure are manufactured from ASME SA designated materials. The innovative pressure-energized seal provides extended service life and reduced maintenance expense. The simple profile of the sealing surface allows for easy inspection and cleaning. An improved hinge arrangement and a unique means of holding the locking segments in the open position, make operation of the Closure smooth and easy. The innovative method of securing the Closure's locking components to the door also helps to prevent the possibility of injury during pipeline or vessel servicing.

R&M Energy Systems, a division of the Fluid Management Group of Robbins & Myers, Inc., manufactures and markets a wide variety of products for use in the discovery and recovery segments of the oil and gas industry. R&M Energy Systems' products include the following: Hamer® Line Blinds; Hercules® Wellheads, Valves, Stuffing Boxes, and artificial lift accessories; Magnum® Needle Valves; standard and customized Moyno® Down-Hole Pumps; Moyno® Surface Pumps, Moyno® Tri-Phaze Systems; Moyno® and Moyno® ERT(TM) Power Sections; New Era® Rod Guides; Resun® Plug Valves; RODEC(TM) Tubing Rotators, artificial lift accessories and down-hole tools; StayTite® Swing Joints; Yale® Closures and Hammer Unions; and SENTRY® Closures. With facilities in the U.S., Belgium, Venezuela and Canada, R&M Energy Systems readily serves customers worldwide.

Company Information:
R&M Energy Systems
10586 U.S. Highway 75 North
Willis, TX, 77378
Phone: (936) 890-1064
Fax: (936) 890-9595
rmenergy.com

Agency Information:
Tim Hull, President
TDH Marketing, Inc.
8153 Garnet Drive
Dayton, Ohio 45458
Phone: (937) 438-3434
tdhull@tdh-marketing.com

UNABLE TO CAPTURE ANOTHER IMAGE.

More from Optics & Photonics