R&D Laboratory DAQ System features 28 channels.
Press Release Summary: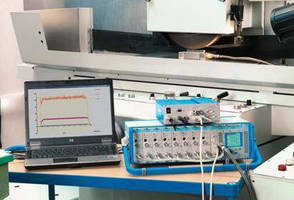 DAQ system Type 5697A for R&D laboratories acquires and evaluates up to 28 channels at high sampling rate. Acquisition box features USB 2.0 interface and controls charge amplifier or signal conditioner via RS-232C interface. Power is supplied via binder connector, and measurements can be started remotely using D-sub connector. Included DynoWare Type 2825A software allows signal evaluation and calculation, along with documentation and saving of configuration and measurement data.
---
Original Press Release:

New DAQ-System with DynoWare Acquisition and Evaluation Software Offers High Sampling Rate and USB Connection



Kistler has developed its new data acquisition (DAQ) system Type 5697A... for recording data in R&D laboratory applications. It is suitable for acquiring and evaluating up to 28 channels at a high sampling rate . The system is supported by data acquisition and evaluation software DynoWare Type 2825A...

The acquisition box, which holds the HASP key (dongle) with runtime license, controls the charge amplifier or signal conditioner directly via RS-232C interface. A USB 2.0 interface makes the system independent of PCI and PCMCIA interfaces. Power is supplied via a robust Binder connector. Measurements can be started remotely via the D-sub connector incorporated in the acquisition box.

The new version of DynoWare is designed primarily for measuring forces with dynamometers or single- or multicomponent sensors. It includes different functions for online visualization, signal evaluation and calculation, individual documentation and saving of configuration and measurement data. It configures and controls all Kistler laboratory charge amplifiers and signal conditioners, now also including single-channel charge amplifier Type 5018A... and multichannel amplifier Type 5080A... . DynoWare runs under Windows® Vista and Windows® 7.

Kistler Gruppe

Eulachstrasse 22 Tel. +41 52 224 11 11 ZKB Winterthur BC 732 IBAN: CH67 0070 0113 2003 7462 8 8408 Winterthur Fax +41 52 224 14 14 Swift: ZKBKCHZZ80A MwSt. Nr.: 229 713 Schweiz info@kistler.com Konto: 1132-0374.628 ISO 9001 zertifiziert www.kistler.com 300-666d-07.10 Kistler Group Kistler's core competence is the development, production and use of sensors for measuring pressure, force, torque and acceleration. Kistler's know-how and electronic systems can be used to prepare measuring signals for use in analyzing physical processes, controlling and optimizing industrial processes, improving product quality in manufacturing and improving performance in sports and rehabilitation.

Kistler offers a comprehensive range of sensors and systems for engine development, automotive engineering, plastics and metal processing, installation technology and biomechanics. A worldwide sales presence in the form of 25 group companies and 30 distributors ensures customer proximity, application support on an individual level and short lead times.

With a staff of about 1,000, the Kistler Group is one of the world's leading providers of dynamic measuring instrumentation. The Kistler Group achieved turnover of 166 million Swiss Francs in the 2009 financial year.

More from Printing & Duplicating Equipment