Quik-Shield 108YM Foam offers 3.6 per in. R-value.
Press Release Summary: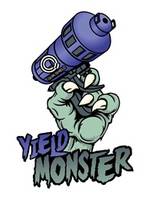 Quik-Shield 108YM Ultra-Low Density Foam provides densities as low as 0.36 lbs per cu-ft. Product can be easily mixed using a pneumatic or electric mixer. This allows applicators to spray an 8 in. pass on a roof deck from up to 15 ft away without the foam dripping and offers wide operating temperatures and pressures. Product delivers an yield of 26,000 board ft per set of material.
---
Original Press Release:
SWD Urethane Announces Quik-Shield 108YM "Yield Monster" Spray Foam
Unprecedented 26,000 Board Feet Available for the First Time Ever
SWD Urethane, a spray polyurethane foam (SPF) manufacturer in the southwestern United States, has announced the next generation of Ultra-Low Density foam: Quik-Shield 108YM, which is affectionately nicknamed the "Yield Monster".
Quik-Shield 108YM has an even lower density than the previous generation of Ultra-Low Density foam. This foam now has densities reaching as low as 0.36 lbs. per cubic foot while still maintaining a high R-value of 3.6 per inch. This provides a 10% boost to Quik-Shield 108's already impressive yield, for up to a 39% greater yield over antiquated 0.5 lb. foams. This has enabled spray foam contractors to attain unprecedented yields of 26,000 board feet per set of material.
Greater yield significantly reduces material cost for projects, allowing contractors to be more competitive in bids. Quik-Shield 108YM now even further bridges the price gap between traditional insulation, such as fiberglass or cellulose. This enables homebuilders and other building professionals to adopt superior spray foam as a cost-competitive alternative to traditional insulation.
Quik-Shield 108YM also features:
Reduced Mixing Requirements - Yield Monster is easily mixed with almost any pneumatic or electric mixer, saving you the process change of having to purchase a special mixer.
Wider Heat and Pressure Window - Yield Monster is one of the top-performing foams with some of the widest range of operating temperatures and pressures. This makes for an easy install under almost any jobsite condition.
Long-Range Application - applicators can spray an 8-inch pass on a roof deck from up to 15 feet away without the foam dripping or falling out of the cavity. Contractors can do away with ladders and scaffolding in some instances, which makes the job safer and less time-consuming.
1-Hour Reentry without Fans - For new residential construction, it makes it easy to keep everyone in compliance with the manufacturer's instructions for reentry while saving the homebuilder up to 24 hours per install.
"Two years ago, we launched the industry's first Ultra-Low Density foam. Last year, we added the one-hour reentry for new construction with no fans required," explained Jim Perkins, President of SWD Urethane. "And now here we are, raising the bar again, putting the rest of the field even further behind with the Yield Monster. We've pushed our technology advantage even further to produce staggering yields and unprecedented efficiency, while our competition is still selling old technology. It is no surprise that spray foam contractors who are using our Quik-Shield products are increasing their margins by up to 60%."
SWD Urethane is a leading supplier of spray polyurethane foam, manufacturing over 100 types of polyurethane foams and polyurea coatings. From 2014 – 2016, SWD Urethane has helped its contractors win 26 out of 60 SPFA Industry Excellence Awards. SWD Urethane has been in business since 1972, and they are one of the fastest-growing spray foam suppliers in the industry. SWD President, Jim Perkins, is the former chair and current board member of the Spray Foam Coalition, a key trade organization for spray foam suppliers. For more information, contact Alan Annis, Marketing Director, at 800-828-1394 or marketing@swdurethane.com.
More from Mechanical Components and Assemblies