Quicktech TTS-42/ TTS-60 9-Axis Twin Spindle Multi-Tasking Center with B Axis at PMTS in Booth #655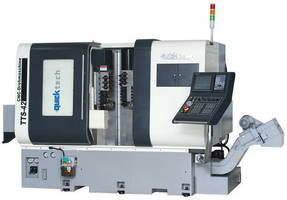 [LORAIN, OH - FEBRUARY 2013]  Absolute Machine Tools will exhibit the Quicktech TTS-42/TTS-60 9-axis twin spindle multi-tasking turning center at PMTS in booth #655. The high precision, high production CNC bar processing center enables complete part machining including milling of complex features.



Available in both 42mm and 60mm (1.65" or 2.36") bar capacities as the TTS-42 or TTS-60, the machines feature 9 axes, 2 turning spindles, 2 milling spindles, and a capacity of 31 tools. A 3-axis (X,Y,Z) gang type vertical tool post serves each spindle, with the main tool post featuring a full B axis for the live tools. Maximum turning length for the main spindle is 226mm (9.05"), and maximum turning diameter for the subspindle is 98.5mm (3.94").



The main spindle has a 15HP high torque spindle motor, and the sub-spindle is equipped with a 5HP high torque spindle motor for backworking. Both spindles feature a full continuous C axis with braking system and standard 42mm DIN-173-42B collet chucks. The main spindle has either 42mm or 60mm draw tube bar capacity, the sub-spindle has 30mm (1.18") draw tube bar capacity, and the spindles are synchronized for fast and accurate part transfer. The cartridge-type spindles employ P4 high precision bearings for stability and heavy cutting ability.



Each spindle is served by a 3-axis gang tooling system. The main spindle tool post features 6 O.D. turning tools, 4 I.D. turning tools, 3 radial live tool heads and 3 axial live tool heads. The sub-spindle tool post features 4 O.D. turning tools, 5 I.D. turning tools, 3 axial live tool heads and 3 radial live tool heads. The live heads are powered by a 2HP spindle motor. The B axis allows the live tools to rotate -45¢ª  to  +130¢ª and be applied to both the main and the sub spindle. In addition, each tool post has a Y axis for off-center milling operations.



Gang tooling produces tool change times near zero. Kennametal KM-25 quick change tooling is standard, and KM-25 bases are supplied with the machine for O.D. turning tools. Rigid tapping is standard. The machines employ large 35mm (1.4") Hiwin linear guideways in all linear axes, assuring stability and allowing heavy cutting. The ballscrews are double anchored, pre-tensioned and direct-coupled to the Mitsubishi servo motors to maximize precision. The machine frame and major components are made from high quality cast iron, and the machine weighs 9,240 lbs.