Quick-Clamp Shaft Collars aid adjustment, setup, change-over.
Press Release Summary: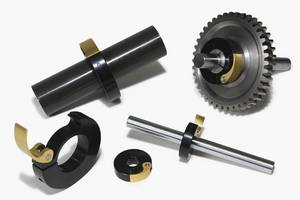 Made from aluminum with type-II sulfuric anodized finishes, quick-clamping shaft collars have low-profile, integral clamping lever. Design of cam on lever and mating machined surface on collar ensure tight fit with maximum axial load of 35-120 lbs, depending on collar bore size. Single point faced to ensure perpendicularity and proper alignment, collars are suited for quick positioning adjustments in light-duty, stationary or low-rpm, rotating shaft applications.
---
Original Press Release:

Quick-Clamping Shaft Collars - Easy Adjustment for Rapid Setup or Frequent Change-Over



Marlborough, Massachusetts. One of the simplest and consequently most overlooked components in the power transmission industry is the shaft collar. However, the importance of the shaft collar is demonstrated through the widespread use of these components. Shaft collars can be found in virtually any type of equipment. They are used by themselves for various applications, including mechanical stops, locating components and bearing faces, and are frequently accessories to other components to create assemblies for many types of power transmission equipment including motors and gearboxes.

Ruland has recently developed and manufactures quick-clamping shaft collars. These new shaft collars are uniquely designed with a low-profile integral clamping lever, in contrast to the typical approach of employing separate single or double tangential screws. The collars are ideally suited for quick positioning adjustments in light duty stationary or low-rpm rotating shaft applications with frequent setup changes or adjustments, or in situations where the use of tools is not practical. Quick-clamping collars do not mar the shaft.

An application example found in the printing industry is the positioning of rolls of media on a shaft within a production process. Repositioning adjustments or changes of raw material can be quickly and easily made without the need for tools or time consuming fastener fine-tuning, improving both operator and machine productivity. Quick-clamping collars also perform well in other applications such as fixture and guide rail adjustment, use of the clamp as a spacer, or when mated with light duty split hub power transmission components such as gears and sprockets. The collars can also be machined to facilitate the mounting of other components. Many application benefits are being realized in packaging, food processing, medical, general manufacturing and other industries.

The collar clamping mechanism works quickly and efficiently with simple hand opening of the integral clamping lever, positioning the collar on the shaft, and closing the lever flush with the outer surface of the collar. The design of the cam on the lever and the mating machined surface on the collar assure a tight fit with a maximum axial load of 35 to 120 lbs / 133 to 489 N depending on the collar bore size. In situations where higher holding power is or clamp axial load is required, the quick-clamping collar is not the recommended choice. Ruland offers a complete line of industry-leading one-piece and two-piece shaft collars designed for these applications.

All Ruland shaft collars, including quick-clamping collars, are single point faced to ensure perpendicularity and proper alignment. This critical manufacturing step assures precise shaft collar face to bore relationship resulting in correct component positioning on the shaft and even pressure on interfaced components.

Quick-clamping shaft collars from Ruland are made from high quality aluminum with type-II sulfuric anodized finishes, with a black finish on the collar and a gold finish on the clamping lever for added visibility. Aluminum collars are corrosion resistant, lighter than other metals, have low inertia and have non-magnetic properties. All Ruland products are RoHS and REACH compliant. Available standard sizes for the quick-clamping shaft collars are 0.375" to 1.5" in the inch series and 8 mm to 38 mm in the metric series.

All Ruland products are manufactured in Marlborough near Boston. The family-owned company has been in business since 1937. Ruland's product portfolio of motion control and power transmission products includes shaft collars, rigid couplings, flexible beam couplings, bellows couplings, oldham couplings, disc couplings and zero-backlash jaw couplings.

Pictures:
1 Quick clamping shaft collars from Ruland in different sizes.
2 Quick clamping shaft collar from Ruland, closed.
3 Quick clamping shaft collar from Ruland, open.

Direct link to product: www.ruland.com/ps_collars_quickclamping.asp

Company Information:
Ruland Manufacturing Co., Inc. was established in 1937 as a manufacturer of precision components. Ruland's focus for the past 40 years has been on high performance shaft collars and couplings. All Ruland products are made in its Marlborough Massachusetts factory.

Contact:
Ruland Manufacturing Co., Inc.
6 Hayes Memorial Drive
Marlborough, MA 01752, USA
Phone 508 485 1000
Fax 508 485 9000
E-mail marketing@ruland.com
Internet www.ruland.com

PR Contact
TPR International
Christiane Tupac-Yupanqui
PO Box 11 40
D-82133 Olching, Germany
Tel.: +49 8142 44 82 301
Fax: +49 8142 44 82 302
Email: c.tupac@tradepressrelations.com
Internet: www.tradepressrelations.com

TPR International would be grateful for a copy of the publication with this article.

More from Electronic Components & Devices