Quick Change Jaw System combines precision and repeatability.
Press Release Summary: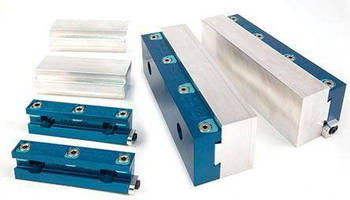 Comprised of Master Jaw Set of 2 Master Jaws, 4 low head socket cap screws, and 5/32" hex T wrench, system, DoveLock™ Quick-Change Jaw System for 4 and 8 in. Kurt vises and towers enables precise jaw changes in less than 1 min and jaw positioning repeatability of up to ±0.001 in. Machinable jaws can be rotated 180° and machined on both sides for 2 different part setups. Jaw set consists of 2 precision-machined aluminum machinable jaw plates.
---
Original Press Release:

Kurt Workholding Introduces Two New Sizes for the Popular DoveLock(TM) Quick Change Jaw System



Minneapolis, Minnesota – Kurt Workholding introduces two new DoveLock™ Quick-Change Jaw System sizes for 4 inch and 8 inch Kurt industry standard vises and towers. Following successful introduction of the DoveLock™ Quick-Change Jaw System for 6" vises, Kurt is expanding its DoveLock™ line for use on new and most existing vise and tower setups.



The DoveLock™ Quick-Change Jaw System enables fast jaw changes and repositioning with high precision. Jaw change time is reduced 90 percent to less than a minute, with jaw positioning repeatability of up to ±0.001". Exclusive to the DoveLock™, the machinable jaws can be rotated 180° and machined on both sides for two different part setups.



The DoveLock™ Quick-Change Jaw System is now available is 4", 6", and 8" inch configurations and consists of: a Master Jaw Set of two Master Jaws, four low head socket cap screws and a 5/32" hex "T" wrench. A Jaw set consists of two precision-machined aluminum machinable jaw plates. Jaw Kits are available for the 4" inch system in 4" and 6" widths, for the 6" inch system in 6", 7", 8", and 10" widths, and for the 8" inch system in 8", and 10" widths.



Kurt also sells DoveLock™ Quick-Change Jaw System Starter Kits which include: two Master Jaws, four low head socket cap screws, a 5/32" hex "T" wrench, and two precision machined aluminum jaw plates. Starter Kits are available for 4", 6", and 8" Kurt industry standard vises and towers, and come with corresponding 4", 6", and 8" precision machined aluminum jaw plates.



The DoveLock™ master jaw uses innovative dovetail quick-clamps to precisely hold the quick-change machinable jaws. The master jaw is attached to the stationary and movable jaw of any standard 4", 6", or 8" Kurt industry standard vises or Kurt Cluster Tower in the initial setup. Once installed the machinable jaws can be easily swapped out by loosening the three quick-clamps on top of the master jaw, then the machinable jaw is removed by pulling it out forward or sliding it out the side of the master jaw.



The DoveLock™ Quick-Change jaw kits are precision machined from 6061 aluminum (not extruded) to ensure highly precise and repeatable setups. DoveLock™ jaws are easily machined allowing design of unique part profiles or steps, and can be machined on both sides of the jaw for multiple setups on the same pair of jaws. The exclusive workstop located on the master jaw allows for quick and repeatable location of up to ±0.001", without measuring. The jaw kits are available in 6", 7", 8", and 10" widths.



For more information and to order the DoveLock™ Quick-Change Jaw System visit: http://www.kurtworkholding.com/plates/systems-dovelock-quick-change-system-c-37_588_699-l-en.html



Kurt Manufacturing Company

Industrial Products Division

9445 East River Road NW

Minneapolis, Minnesota 55433

In USA, Fax 1-877-226-7828

Outside USA, Fax 1-763-574-8313