Quantum Peristaltic Pump features ReNu SU technology cartridge.
Press Release Summary: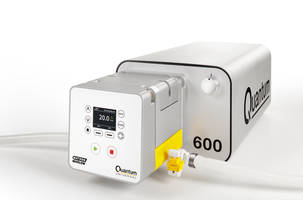 Used in SU tangential flow filtration, virus filtration and high-performance liquid chromatography, Quantum Peristaltic Pump offers 43.5 lb-force per sq in. flow linearity. Delivering up to 5.3 gpm SU processing pressure range with ± 1.74 psi trace pulsation, unit offers 4000:1 speed control ratio. Unit's virtually pulse-free performance provides constant pressure for maximum yield.
---
Original Press Release:
Quantum Redefines Peristaltic Pump Performance for Single-Use Downstream Bioprocessing
Watson-Marlow Fluid Technology Group (WMFTG) has unveiled its innovative Quantum peristaltic pump with patented ReNu single-use (SU) cartridge technology. Engineered by the world leader in peristaltic innovation, Quantum sets the new standard for high-pressure feed pumps in SU tangential flow filtration (TFF), virus filtration (VF) and high-performance liquid chromatography (HPLC). Quantum represents a step-change in pump technology for bioprocessing by enabling higher downstream process yields throughout the pressure range, delivering virtually pulse free linear flow, lowest shear and easy validation aligned with Biophorum Operations Group (BPOG) guidelines.
Flow linearity with lowest pulse
Quantum outperforms other pumps by delivering higher accuracy with flow linearity independent of back-pressure, removing the need for flow meters and load cells. Flow linearity is achieved across the 43.5 pound-force per square inch (psi) (3 bar) SU processing pressure range up to 5.3 gallons per minute (20 liters/minute), with trace pulsation of only ± 1.74 psi (±0.12 bar), which is far lower than other pumps. This virtually pulse-free performance enables constant pressure, thus maximizing process efficiency and yield.
Wide turndown with ultra-low shear
Another major benefit is ultra-low shear, half that of diaphragm pumps, a factor that increases product viability to help maximize process yield. In addition, an integrated 4000:1 speed control ratio allows users to sustain constant transmembrane pressure in micro and ultrafiltration. Being limited to a 200:1 control ratio in HPLC gradient work is now a problem of the past. Uniquely, the user interface is located at the front of the pump, enabling visual confirmation of operating state and easy access to pump controls even when skid mounted.
Simple to use single-use technology
At the heart of the Quantum pump is the patented ReNu SU technology cartridge, which is simple to install, enabling its aseptic fluid paths to be positioned quickly and accurately ready for use. The synergy between peristaltic pumps and single-use pump systems cannot be overstated. The ReNu SU Technology cartridge slides effortlessly into position, allowing for a change of fluid path in minutes while eliminating alignment errors.
Effortless validation
Quantum's ReNu SU cartridge offers validation and extractable data in line with BPOG, Bio-Process Systems Alliance (BPSA), United States Pharmacopoeia (USP), and International Organization for Standardization (ISO) guidelines. Suitable for gamma irradiation up to 50 kilogray (kGy), ReNu SU is manufactured in an ISO Class 7 cleanroom, with all contact material tested for biocompatibility and BPOG-derived extractable studies. Available as a cartridge or as a component within a Watson-Marlow BioPure PureSU single-use fluid path assembly, Quantum's ReNu SU delivers considerable reduction in the cost and time of pump and process validation.
Watson-Marlow Fluid Technology Group (WMFTG) is the world leader in niche peristaltic pumps and associated fluid path technologies. Founded on nearly 60 years of supplying engineering and process expertise and with over one million pumps installed worldwide, our pumps are tried, tested and proven to deliver.
WMFTG is a wholly owned subsidiary of Spirax-Sarco Engineering plc (LSE: SPX), a global organisation employing approximately 4,800 people worldwide. Watson-Marlow Fluid Technology Group comprises ten established brands, each with their own area of expertise, but together offering our customers an unrivalled breadth of solutions for their pumping applications:
Watson-Marlow Pumps: peristaltic tube pumps for biopharm and process industries
Watson-Marlow Tubing: precision tubing for pumping and other purposes, in a range of materials
Bredel: high flow, heavy duty hose pumps
Alitea: unique peristaltic solutions for OEM customers
Flexicon: aseptic filling and capping systems
MasoSine: gentle sinusoidal pumps for food, chemical and cosmetics applications
BioPure: advanced single-use tubing connector systems
ASEPCO: aseptic valves for the biopharmaceutical industry
FlowSmart: high purity sanitary gaskets, silicone transfer tubing and reinforced silicone hoses for the biopharmaceutical industry
Aflex Hose: specialises in the design and manufacture of PTFE-lined flexible hoses
Watson-Marlow Fluid Technology Group is an international operation based in Falmouth, Cornwall, UK. Watson-Marlow Fluid |Technology Group has offices in Argentina, Australia, Austria, Belgium, Brazil, Chile, China, Canada, Denmark, France, Germany, Ireland, India, Indonesia, Italy, Japan, South Korea, Malaysia, Mexico, the Netherlands, New Zealand, Poland, Russia, Sharjah UAE, Singapore, South Africa, Sweden, Switzerland, Taiwan, Thailand, USA and Vietnam.
Related