Quality Control of Rubber Seals on the Basis of Height Measurements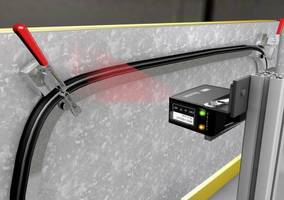 The measurement of object height is an important aspect in quality control applications. With the PosCon HM light-section sensor, Baumer offers a unique, compact measuring device for this kind of tasks. The smart, pre-configured profile sensor offers five measurement modes for different measurement tasks. An exact positioning of the measured objects is not required. The PosCon HM provides reliable measurements even on shiny and very dark surfaces. In conjunction with its high measuring accuracy of up to 2 μm, it is suitable for a large number of applications in at-line, off-line and in-line control.
One example is the inspection of black rubber seals for side windows in the automobile industry. In this case, random samples are tested off-line on a special test bench. The seals are fitted into special mounts on a measuring setup. The forms and the curves of the seal may vary, but they must not exceed special limit values. The challenge for the sensors is not only the form, or, to be more precise, the curves, but also the black, light-absorbing material. In the PosCon HM, powerful algorithms analyze up to 600 items of height information per measurement and determine the maximum height of the object, irrespective of its position. Only the PosCon HM makes it possible to carry out this measurement, and it supplies precise, reliable measurement results with a measuring rate of up to 1540 Hz.
The PosCon HM is also the ideal measuring tool for the inspection of metallic, glossy preformed parts, for example the inspection of car doors. The sensors can check the correct form of the car door, for example, by performing measurements at numerous test points. The sensors can also be mounted close beside each other without influencing each other. The PosCon HM provides the measured values directly in mm, thus allowing an immediate OK/Not OK check for each test point.
Further information: www.baumer.com/posconhm
The Baumer Group is an internationally leading manufacturer of sensors, encoders, measuring instruments and automated image-processing components. Baumer combines innovative technology and customer-oriented service with intelligent solutions for factory and process automation and provides a unique range of products and technologies. The family company has around 2,300 employees with manufacturing facilities, sales offices and agents in 37 offices and 19 countries, always close to the customer. With consistently high quality standards worldwide and a huge potential for innovation, Baumer brings their customers critical advantages and measurable added value across many industries. For further information, visit www.baumer.com on the Internet.
Baumer USA
122 Spring St., Unit C-6
Southington, CT 06489 USA
Jeremy Jones
Phone : +1 (860) 620 63 75
Fax : +1 (860) 628 62 80
Related