Quad/Dual Digital Pulsers enhance ultrasound imaging.
Press Release Summary: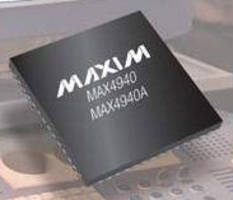 With active-clamping architecture and 2.0 A (typ) of output current, MAX4940/MAX4940A can be independently configured to enable unipolar or bipolar pulsing in high-voltage systems from low-voltage logic inputs. They operate from single positive supply up to +220 V, single negative supply down to -220 V, or dual ±110 V supplies. MAX4940A can support 5 levels of pulsing, while MAX4940 is configured to support 2 levels. Each device comes in 8 x 8 mm, 56-pin TQFN package.
---
Original Press Release:

Highly Integrated, Quad/Dual Digital Pulsers Utilize Active Clamping to Enhance Ultrasound Imaging



Digital pulsers employ active-clamping architecture to improve image quality.

SUNNYVALE, CA-November 12, 2009-Maxim Integrated Products (NASDAQ: MXIM) introduces the MAX4940/MAX4940A quad/dual, high-voltage digital pulsers. Providing 2.0A (typ) of output current, these devices can be independently configured to enable unipolar or bipolar pulsing in high-voltage systems from low-voltage logic inputs. Two logic inputs per channel and one independent enable input ensure that the output MOSFETs are turned off to speed ramp times and minimize delays between pulsing modes. To improve image quality, these pulsers employ an innovative active-clamping architecture to reduce the 2nd harmonic output and allow complete control of each driver's output stage. The MAX4940/MAX4940A are ideal for use in high-voltage applications, such as portable ultrasound imaging and industrial flaw detection, in which board space, power consumption, and performance are critical.

The MAX4940A features integrated blocking diodes that allow the user to configure the IC to support five levels of pulsing by connecting the outputs of multiple pulser channels in parallel. The MAX4940 is configured to support two levels of pulsing with a return-to-zero architecture. Both devices also feature an integrated thermal-shutdown circuit that disables all outputs once a junction temperature of +155°C is reached, thus preventing damage to the pulsers due to excessive power/heat dissipation.

The MAX4940/MAX4940A operate from a single positive supply up to +220V, a single negative supply down to -220V, or dual ±110V supplies. Fully specified over the 0°C to +70°C commercial temperature range, each device is available in a small, 8mm x 8mm, 56-pin TQFN package. Prices start at $10.90 (1000-up, FOB USA).

Maxim Integrated Products is a publicly traded company that designs, manufactures, and sells high-performance semiconductor products. The Company was founded over 25 years ago with the mission to deliver innovative analog and mixed-signal engineering solutions that add value to its customers' products. To date, it has developed over 6100 products serving the industrial, communications, consumer, and computing markets.

Maxim reported revenue in excess of $1.6 billion for fiscal 2009. A Fortune 1000 company, Maxim is included in the Nasdaq 100, the Russell 1000, and the MSCI USA indices. For more information, go to www.maxim-ic.com.

Customer Service: 1-800-998-8800

More from Material Handling & Storage