Quad Deserializer Hub supports driver assistance systems.
Press Release Summary: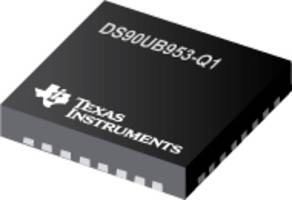 Compliant with MIPI CSI-2 specification, Model DS90UB964-Q1 with FPD-Link III interface simultaneously aggregates and replicates data from up to 4 cameras in automotive and radar applications. Dual outputs with virtual channel ID mapping and port replication save processor resources to speed processing of data from cameras at 100 MHz per sensor and 12-bit resolution. Adaptive equalization provides diagnostics that enable system to monitor cable health and take action before cable failure occurs.
---
Original Press Release:
First Dual-Port CSI-2 Quad Deserializer Hub Enables Faster, More Flexible ADAS Applications
TI deserializer hub aggregates and replicates data from multiple high-resolution sensors in automotive camera and radar applications

DALLAS, -- Texas Instruments (TI) (NASDAQ: TXN) today introduced the industry's first dual-port quad deserializer hub that is compliant with the MIPI Camera Serial Interface 2 (CSI-2) specification. The new automotive-qualified hub simultaneously aggregates and replicates high-resolution data from up to four cameras. High data throughput and precision are essential in autonomous driving and sensor fusion-based advanced driver assistance systems (ADAS), including surround-view systems, rearview cameras, driver-monitor cameras, camera-monitor systems, front camera systems and satellite radar equipment. For more information, see www.ti.com/DS90UB964q1-pr.

The new device's higher bandwidth enables processing of more video data at faster speeds in equipment designed to recognize pedestrians, bicyclists and other obstacles in a vehicle's path or periphery. The DS90UB964-Q1 FPD-Link III device's dual CSI-2 outputs with virtual channel ID mapping and port replication save processor resources to speed processing of data from up to four cameras at 100 MHz per sensor and 12-bit resolution. In addition, TI's adaptive equalization (EQ) provides diagnostics that enable the system to monitor cable health and take action before cable failure occurs.

Key features and benefits of the new DS90UB964-Q1 quad deserializer hub

Faster video processing: Dual-port CSI-2 outputs support video transmission at up to 1.6 Gbps per lane for higher bandwidth and faster obstacle recognition by supporting the following:
The second CSI-2 port enables simultaneous video replication for data logging, or separate viewing and machine-vision flows.
The new hub, unlike competitive devices, supports virtual channel ID mapping which helps processors differentiate cameras and high-dynamic-range exposures, enabling more efficient processing.
The ultra-low-latency control channel enables integration of the image signal processing (ISP) function into the electronic control unit (ECU), and out of the camera, improving image quality and reducing system costs.
Robust system operation and diagnostics: Like other devices in TI's growing FPD-Link III serializer-deserializer (SerDes) family, the DS90UB964-Q1 features adaptive receiver EQ rather than transmitter pre-emphasis. Adaptive EQ automatically compensates for cable aging and bending effects to ensure optimal signal quality, and helps reduce electromagnetic interference (EMI).
Cost-optimized, flexible system design: TI's broad portfolio of interoperable, upward- and downward-compatible FPD-Link III SerDes devices support automotive manufacturers and tier-1 suppliers' high-, mid- and entry-level performance configurations. This scalability makes it easy for designers to select and design in the best SerDes to optimize system performance and cost.

The DS90UB964-Q1 deserializer hub can work with many processors on the market today, including the TDA3x SoC processor for ADAS. The power-over-coax support in both devices enables engineers to significantly reduce the wiring needed in their systems.

In addition to the DS90UB964-Q1 1-megapixel (MP) deserializer hub, TI is now sampling SerDes devices for 2-MP cameras at 60 frames per second. These 2-MP devices feature synchronous clocking, and advanced data protection and diagnostic features.

Tools and support to speed design
Engineers can quickly and easily evaluate the new deserializer hub with the DS90UB964-Q1 evaluation module (DS90UB964-Q1EVM), available today for US$499 from the TI store and authorized distributors. Designers can also jump-start their system design using the new device with a TI Designs reference design. Check out the Automotive ADAS 4 Camera Hub Reference Design with Integrated ISP and DVP Outputs or Automotive 1MP Camera Module Reference Design with YUV422 Output, FPD-Link III and Power-over-Coax.

Package, availability and pricing
The DS90UB964-Q1 deserializer hub is now available in the TI store and with authorized distributors in a 64-pin very thin quad flat no-lead (VQFN) package. Pricing starts at US$15 in 1,000-unit quantities. Contact your TI field sales representative to sample TI's other new 1-MP and 2-MP SerDes devices.

About Texas Instruments
Texas Instruments Incorporated (TI) is a global semiconductor design and manufacturing company that develops analog integrated circuits (ICs) and embedded processors. By employing the world's brightest minds, TI creates innovations that shape the future of technology. TI is helping more than 100,000 customers transform the future, today. Learn more at www.ti.com.

Trademarks
TI E2E is a trademark of Texas Instruments. All trademarks and registered trademarks are the property of their respective owners.

CONTACT: Marion Clary, Texas Instruments, 669-721-5092, marion.clary@ti.com
More from Fasteners & Hardware