Quad-Axis CNC Drill Sharpener offers one-touch operation.
Press Release Summary: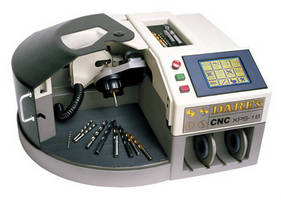 Able to sharpen 400+ drills in one day, XPS-16 uses 3 independent electronic sensors that automatically detect drill length and diameter, locate cutting edge, and calculate web thickness. Heavy-duty unit also hones carbide drill edges as part of automatic process. Equipped with touchscreen LCD panel, machine allows creation and storage of user-specific drill sharpening programs along with pre-installed ones. Bench-top sharpener processes diverse drill types with angles from 90° to 150°.
---
Original Press Release:

4-Axis CNC Sharpener Restores Drill Bits Inexpensively



The US manufacturer, Darex, has introduced a new, 4-axis CNC drill sharpener, designated XPS-16, capable of restoring high-performance drills in a simple, one-touch operation. Distributed in the UK by 1st MTA, Salisbury, the heavy duty unit costs the equivalent of 100 radial split point carbide drills, yet even unskilled operators can sharpen more than 400 of them in a day. Return on investment is typically under eight months.

A wide variety of conical, four facet, split point and radius split point twist drills with angles from 90 to 150 degrees can be processed, including high speed steel, cobalt, solid carbide and coated tools from 51 to 254 mm (2 to 10 inches) long and 3 to 16 mm (1/8 to 5/8 inch) diameter.

In operation, a blunt drill is inserted into the mains-powered sharpener's chuck and the required standard or custom type of drill point is selected using a simple LCD touch screen panel. On initiation of the sharpening cycle, three independent electronic sensors automatically detect the drill's length and diameter, precisely locate the cutting edge and calculate the web thickness.

The unit then sharpens the drill and applies the required split point form in one seamless operation, without operator involvement. It will also hone carbide drill edges as part of the automatic process, extending tool life and maximising drill bit machining accuracy.

The XPS-16 allows user-specific drill sharpening programs to be created easily and stored along with the pre-installed standard programs. It also incorporates Darex's latest 'grind motion control' system, which detects excess material on a blunt drill bit. This enables the grinding feed rate to be adjusted automatically, both to prevent burning and to provide optimum sharpening performance.

The bench-top sharpener incorporates a vacuum filtration system to eliminate grit and airborne contaminants such as carbide dust. Its computer control includes advanced diagnostic software that alerts operators to potential problems during the sharpening cycle.

Long-lasting superabrasive plated grinding wheels, 180 grit cubic boron nitride for HSS drills and 220 grit diamond for carbide tools, together with lifetime-lubricated seals, ensure low maintenance and long operational life. Components are modular for easy in-house calibration and service.

About 1st Machine Tool Accessories

Offering a comprehensive selection of top quality products at competitive prices, 1st Machine Tool Accessories is a leading supplier of workholding and machining accessories, including collets; chuck jaws; Kitagawa, Bison and Talleras de Guernica chucks, rotary tables and vices; Chick and Tecnomors workholding equipment; Abbott and Leave fixturing and clamping products; Darex tool sharpeners; OK-Vises; Brighetti reduction bushes; CoolJet high pressure coolant systems; Micromag filtration units; machine mounts; and Overbeck deburring twister lathes.

1st MTA's extensive stock holding is backed by excellent warranty and service, provided by a dedicated team of technical engineers. Demonstrations of selected products are available from external sales specialists on request.

On behalf of: 1st Machine Tool Accessories Limited
1 The Headlands, Downton, Salisbury,
Wiltshire, SP5 3JJ, UK.
Tel: 01725 512517. Fax: 01725 512529.
E-mail: enquiries@1mta.com
Web site: www.1mta.com
Contact: Catherine Kelly, General Manager.

Issued by: THE RIGHT IMAGE Ltd,
PO Box 42, Twickenham, TW1 1BQ.
Tel: 020 8891 0603.
E-mail: chris@therightimage.net
Contact: Chris Wright.

More from Machinery & Machining Tools