Temperature Sensors / Detectors / Transducers
Pyrometer System supports multi-point temperature monitoring.
Press Release Summary: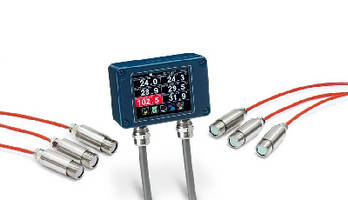 Utilizing miniature, non-contact infrared sensors and interface modules, PyroMiniBus measures surface temperature of products and machinery in industrial processes and sends measurements via RS485 Modbus to touchscreen display. System offers choice of two temperature sensors for measuring small or large targets, 6-channel touchscreen for configuration and data logging, and junction box to connect them together. Sensors can operate in conditions up to 120°C with no need for cooling.
---
Original Press Release:

New Pyrometer System from Calex Simplifies Multi-Point Temperature Monitoring



Leighton Buzzard, UK — Calex Electronics Ltd releases the PyroMiniBus, a simple system of infrared temperature sensors and interface modules designed to make multi-point industrial temperature monitoring easier and more affordable.



The miniature non-contact sensors measure the surface temperature of products and machinery in industrial processes, and send the measurements via RS485 Modbus to a touch screen display. 



Despite the potential improvements in product quality, production rate and safety that temperature monitoring can bring, as well as reduced waste and running costs, the size and price of existing systems has held some companies back from specifying new measurement equipment.



"Until now, specifying a temperature monitoring system has often meant trying to fit large sensors, bulky signal converters and multiple cable runs into a tight space and budget," said Anthony Smith, product manager at Calex.



"By miniaturising the sensors and removing the need for signal conditioning electronics, we have simplified the system to a small, affordable set of parts. It is easier to fit the sensors into small spaces, and they weigh a lot less now. By using digital sensors the cable network is much simpler. Machine builders especially will see a huge benefit with the PyroMiniBus, and it is easy to retrofit too."



There are just four main parts to the system: a choice of two temperature sensors for measuring small or large targets, a six-channel touch screen for configuration and data logging, and a junction box to connect them all together. Installing the system is as simple as wiring up the junction box and connecting a power supply. Relay and analogue outputs can also be added with separate modules.



The system is not limited to measuring just six locations: larger networks of sensors and interface modules can be connected as slave devices to an alternative Modbus Master, such as an existing supervisory control system.



The ability for sensors to withstand high ambient temperatures has also improved. The new sensors will operate in conditions of up to 120°C with no need for cooling, such as locations close to ovens, dryers and preheating equipment, along with many other general-purpose applications.



Availability

The PyroMiniBus system is available to order now from Calex and their distributors worldwide. To find out more, please see www.calex.co.uk/pyrominibus or contact Simon Lane, sales engineer, on +44 (0) 1525 373178 or simon.lane@calex.co.uk



Notes to Editors:

Calex Electronics Ltd is a manufacturer and supplier of innovative industrial temperature measurement equipment, established in 1973. Calex designs and builds its temperature sensors in its factory in Leighton Buzzard, UK, and supplies them through distributors worldwide. For more information, please see www.calex.co.uk



Data sheet download link: http://calex.co.uk/downloads/datasheets/pyrominibus-datasheet.pdf





More from Communication Systems & Equipment