PXI Controllers work with LabVIEW(TM) software.
Press Release Summary: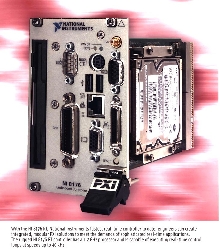 Models 8175 RT and 8176 RT PXI controllers have 866 MHz and 1.2 GHz processors, respectively, and are capable of executing control loops at speeds up to 40 kHz. Both controllers come with embedded LabVIEW run-time engine and 100 BaseTX Ethernet for open network connectivity. They include support for PXI plug-in modules such as data acquisition, signal conditioning, dynamic signal acquisition, motion control, and serial and CAN connectivity.
---
Original Press Release:
National Instruments Speeds Real-Time Performance with New PXI Controllers

NI's Fastest Real-Time Controllers Deliver Significant Performance Gains for Real-Time Lab VIEW(TM) Solutions

AUSTIN, Texas - Jan. 15, 2002 - Engineers now can create high-speed real- time systems capable of executing control loops up to 40 kHz with National Instruments' fastest RT Series PXI embedded controllers to date -the NI 8176 RT and the NJ 8175 RT.

The rugged NI 8176 RT controller boasts a 1.2 GHz processor and runs LabVIEW Real-Time control applications up to 300 percent faster than other real-time controllers and up to 28 percent faster than the PXI 8170 RT, previously NI's most powerful real-time controller. The second new controller, the NI 8175 RT, is built on the same architecture as the NI 8176 RT and contains an 866 MHz processor. Both controllers come ready-to-run with an embedded LabVIEW Real-Time run-time engine and feature built-in 100 BaseTX Ethernet for open network connectivity.

Engineers can create customized, integrated applications with the LabVIEW Real-Time Module and then download the applications to either of these powerful controllers for guaranteed deterministic performance. Because the controllers include built-in support for hardware I/O, engineers can combine them with a variety of PXI plug-in modules - from data acquisition, signal conditioning, dynamic signal acquisition, motion control, and serial and CAN connectivity - and even interface with third-party PXI/CompactPCI(TM) plug-in modules through NI-VISA(TM) software. Because PXI systems are modular, engineers gain the flexibility to easily exchange or upgrade hardware to meet ever-changing application requirements.

The controllers' high-speed performance and extensive I/O integration easily meet the demands of sophisticated design validation applications in industries such as aerospace, defense, and automotive. For example, engineers can use the high- speed. deterministic performance of the NI 8176 RT to create hydraulic actuator test cells or hardware-in-the-loop simulation systems.

About NI
NI (Nasdaq: NATI) leverages commercial technologies, such as industry-standard computers and the Internet, to deliver customer-defined measurement and automation solutions. Headquartered in Austin, Texas, NI has more than 2,700 employees and direct sales offices in more than 35 countries. NI increases the productivity of engineers and scientists worldwide by delivering easy-to-integrate software and modular hardware. In fiscal year 2000, NI recorded its 24th consecutive year of double-digit growth with revenue totaling $410 million.

Price, Availability, and For More Information
The NI 8176 RT controller is available in Q I 2002 for $4,495, Euro5,795, Yen669.000. The NI 8175 RT controller is also available in Q1 2002 and is priced at $3,495, Euro4,545, Yen291,000. For more information about these controllers, contact NI, 11500 N. Mopac Expwy, Austin, Texas, 78759-3504. Call toll free in the United States and Canada at (800) 258-7022, fax (512) 683- 9300, or e-mail info@ni.com. Readers also can access information through the company's Web site at ni.com/pxi.
More from Software