PXI Battery Simulator provides programmable output resistance.
Press Release Summary: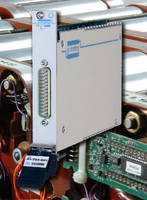 Providing adjustable power supply with voltages up to 6 V and output currents up to 2.8 A, single-channel Model 41-742 has programmable output resistance function for replicating effect of batteries with finite output resistance. Unit features remote sense connections and fast correction loop that allows it to emulate battery, even at end of cable runs required to connect to device under test. Fully isolated from ground, 3U PXI module is useful for testing mobile phones and PDAs.
---
Original Press Release:

Pickering Interfaces Is Expanding Its Range of PXI Battery Simulators with the Introduction of the 41-753.



The 41-743 is a single channel battery simulator designed to support the testing of battery operated devices.

The 41-753 provides a very fast responding adjustable power supply capable of providing voltages up to 6V and output currents up to 2.8A. The 3U PXI module has a programmable output resistance function that allows it to replicate the effect of batteries with a finite output resistance.

The 41-753 features a remote sense connections and a very fast correction loop that allows the module to emulate the battery even at the end of the cable runs required to connect to the device under test. The module is fully isolated from ground. The fast correction loop means that the 41-753 can be used without having to add bulky decoupling capacitors in the device under test. It is particularly useful for the testing of mobile phones and PDA's

Pricing and availability information is supplied on our web site www.pickeringtest.com

About Pickering Interfaces

Pickering Interfaces is a market innovator in signal switching and conditioning for a broad range of applications and architectures, with the largest range of switching cards in the industry for PXI, LXI, PCI, VXI and GPIB applications. Pickering Interfaces has provided solutions to both commercial and military applications. In addition, Pickering's range of instrumentation provides innovative test solutions to users and integrators of modular test systems. Pickering Interfaces operate globally with direct operations in the US, UK, Germany, Sweden, France , Czech Republic, and Engineering support in China, together with additional representation in countries throughout the Americas, Europe and Asia.

USA Contact: Bob Stasonis, Marketing USA -at bob.stasonis@pickeringtest.com

More from Machinery & Machining Tools