PWM Servo Amplifier/Controller utlizes DSP technology.
Press Release Summary: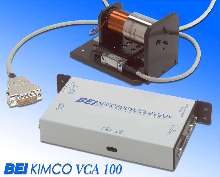 Stand-alone model VCA 100, 4-quadrant, DSP-based controller can operate as position, velocity, or force/torque mode amplifier/controller. Programmable servo drive's feature-set is configurable via RS232/485 port. It accepts digital and analog feedback signals and is capable of multi-axis integration. Offerings include user defined macro capability, multi-tasking command interpreter, variable servo rate to 5 kHz, and current and position loop tuning.
---
Original Press Release:

First Time Ever Dedicated Voice Coil Actuator Amplifier/Controller Featuring 4-Quadrant Servo Control


San Marcos, Calif., October, 2002 - BEI Kimco Magnetics Division of BEI Technologies, Inc. has introduced the VCA 100. It is a new stand-alone PWM Servo Amplifier/Controller designed to maximize performance of BEI's linear and rotary Voice Coil Actuators. This versatile, 4-quadrant, DSP-based controller can operate as a position, velocity or force/torque mode amplifier/controller.

The VCA 100 is a programmable servo drive that uses the latest DSP technology to provide a powerful feature-set configurable via a RS232/485 port. It accepts digital and analog feedback signals and is capable of stand-alone operation or multi-axis integration, when connected to a PC-based distributed motion system.

Principal Features:
o User defined macro capability for motion sequencing and I/O processing.
o Pre-emptive multi-tasking command interpreter.
o User programmable S-curve and Trapezoidal motion.
o Variable servo rate up to 5 kHz.
o Current and position loop tuning via serial interface (no potentiometers).
o Drive setup and status information available serially via RS232 or RS485 link.
o Drive parameters and status history recorded in non-volatile EEPROM and available as diagnostic histogram.
o Accepts analog & digital feedback.
o Setup utility using a serial port interface on any P/C with Windows 95 or higher.
o Minimum Communications Level: Dumb terminal or embedded controller with ASCII characters.

Ratings:
o Supply voltage: 18-50v. Peak current: 10A. Continuous current: 5A.
o PWM frequency: 18 kHz
o Position range: 32 bits
o Velocity range: 24 bits
o Acceleration Range: 24 bits
o Operating temperature range: 0 to 50 deg. C ambient

Package Outline:
7.6" (193 mm) L (including mounting tabs) X 3.67" (93.2 mm) H X 1.22" (31mm) W

Price: $1000

About BEI Kimco Magnetics

BEI Kimco Magnetics Division is an operating division of BEI Technologies, Inc. (Nasdaq: BEIQ). BEI is an established manufacturer of electronic sensors and motion control products used for factory and office automation, medical and scientific equipment, military, aviation and space systems, and transportation equipment including automobiles, trucks and off-road equipment. The company's product portfolio includes optical encoders, brushless DC motors, voice coil actuators, potentiometric position sensors, silicon micro-electromechanical (MEMS) devices, rotation rate sensors, pressure transducers, and servo systems.

For more information, contact BEI Kimco Magnetics Division at 804-A Rancheros Drive, San Marcos, Calif., 92069; Phone (800) 572-7560; Fax (760) 744-0425; E-mail: sales@beikimco.com; Immediate details and specifications can also be found the BEI Kimco website: www.beikimco.com


More from Thermal & Heating Equipment