AC Motor Controllers and Drives
PWM Dual Voltage AC Drives include isolated front end.
Press Release Summary: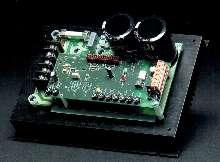 Series VFD05-D230-PCM features minimum speed adjustment potentiometer, DC injection braking, and automatic or manual restarts. Available to 1.5 hp, drives can be used with 3-phase induction, single-phase PSC, shaded-pole, and synchronous motors. Doubling jumper can be set to output 230 Vac when only 115 Vac power supply is available. With automatic restart, inverter will restart after low voltage fault or power loss when input voltage is restored.
---
Original Press Release:
VFD05-D230-PCM: PWM, Dual Voltage, Isolated, Chassis AC Drive

South Beloit, IL: Minarik Drives announces the release of the VFD05-D230-PCM Volts/Hertz AC drive. The VFD05-D230-PCM series has all the features of the original VFD series with several additional enhancements. They include an isolated front end,
minimum speed adjustment potentiometer, DC injection braking, automatic or manual restarts.

The dual voltage, isolated VFD05-D230-PCM inverter can accept a speed reference signal without a separate isolation card. They can be used with a variety of motors including 3-phase induction, single-phase permanent split capacitor (PSC), shaded pole and synchronous motors.

Packed with features, the VFDO5-D230-PCM have a "doubling" jumper that can be set to output 230VAC to a motor when only 11 5VAC power supply is available. A jumper also determines if the VFD-PCM is set for automatic or manual restarting.

If automatic restart is selected, the inverter will restart after a low voltage fault or power loss, when the input voltage is restored to a minimum level. Another jumper selectable
option is DC injection braking or coast-to-stop. Customizing the brake time and current is easy with adjustable trimmer pots.

Available to 1.5 hp, the VFD05-D230-PCM series has the features, flexibility and compact size expected in a full-featured AC drive.

For over 50 years, Minarik Drives has lead the industry with state-of-the-art manufactured solutions for DC motor controls 5 Hp and below. To better serve our growing customer base, the product offering and the global distributor network continue
to be expanded, which is supported by factory-trained engineers, sales representatives, and customer service personnel. Call 800-Minarik (646-2745) or visit www.minarikdrives.com for further information on all Minarik Drives product.

For technical assistance contact:

Application Engineering

14300 De La Tour Drive

South Beloit, IL 61080

Tel: (815) 624-5959

800-Minarik (646-2745)

Fax: 815-624-6960

e-mail: mdsales@minarik.com

www.minarikdrives.com.

For lead inquiries contact:

John Reilley

V.P. of Corporate Marketing

905 E. Thompson Avenue

Glendale, CA 91201

Tel: 818-637-7500

Fax: 818-637-7549

john.reilley@minarik.com
More from Paints & Coatings