PWM Amplifier ICs drive industrial motors on 60 V supplies.
Press Release Summary: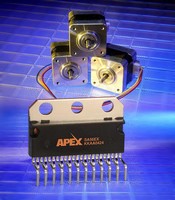 Suitable for dc and stepper motors up to 1/3 hp, SA56 PWM amplifier ICs are integrated with 5 A, 60 V monolithic and are capable of delivering 250-500 W. Equipped with ability to switch between digital and analog inputs, unit is capable of converting analog signals to PWM operation. Designed to combine bipolar and CMOS control circuitry with DMOS power devices, circuit protection includes short circuit, output current monitoring and programmable current limit.
---
Original Press Release:

5A Monolithic PWM Amplifier Drives Larger, Fractional Industrial Motors on 60V Supplies Using Either Analog or Digital Input



TUCSON, AZ (USA) - Apex has extended the design performance for pulse width modulation (PWM) amplifier ICs with the development of a new 5A, 60V monolithic. The SA56 delivers increased power to drive a wider range of DC and stepper motors of up to 1/3-HP, while the use of PWM technology provides efficient power delivery to minimize thermal issues. With this single chip device, system level designers can integrate sophisticated motion control into their designs without being experienced analog or power designers.

The SA56's power delivery ranges from 250W to 500W. This represents an increase of nearly 50% compared with other available PWM ICs. Another customer advantage is the ability to select between analog or digital input. The SA56 is compatible with TTL and CMOS inputs for digital motor control. For analog systems, an onboard PWM oscillator and comparator make it possible for the IC to convert analog signals to PWM direction and magnitude.

The potential for overall savings on system size, weight and design, is provided by the efficiency of the SA56's pulse width modulation operation. The use of switching technology minimizes power dissipation issues. As a result, the need for large external heatsinks is eliminated. It also means the motor and its operating system will run cooler, increasing long-term reliability. The SA56 also uses smaller filter components because it switches at higher frequencies of up to 100 KHz.

The design of the SA56 is accomplished by using a technology process that combines bipolar and CMOS control circuitry with DMOS power devices within the same monolithic structure. This unique IC design also incorporates circuit protection including short circuit, output current monitoring and programmable current limit.

By incorporating more of these features "onboard", the SA56 affords the customer board layout flexibility and reduces overall component count. For applications in the aerospace, medical and test equipment markets, the use of the SA56 can save critical board space.

The SA56 is offered in a 23-pin staggered lead IC package. The heat tab on the package is tied to -VS. The SA56 is priced $8.90 in production volume quantities.

Typical Applications for the SA56EX:

o DC motor drives up to 1/3-HP
o Stepper motor drives
o Solenoid drives
o Active noise, vibration cancellation
o Industrial audio

Typical Markets for the SA56EX:

o Industrial Controls
o Aerospace
o Military
o Medical

Key Specifications for the SA56EX

Voltage Supply Output Current Switching Frequency Power Delivery Production Volume Pricing
Model V A KHz W 10K pcs USD
SA56EX 12V to 60V Single Supply 5A Continuous 7A PEAK 100KHz Up to 250W $8.90

NOTE: sample units for evaluation available now, full-qualified release scheduled for 2nd quarter 2006.

Additional product information on the Apex SA56 is available at apexmicrotech.com. To request product literature by phone, please call the Apex Product Literature Helpline at 800-546-APEX, or contact us via e-mail at prodlit@apexmicrotech.com. Apex Microtechnology Corporation is an industry leader in high power analog ICs, modular and hybrid components designed to meet the performance and cost design targets of our customers' precision control applications. Apex is headquartered in Tucson, Arizona, USA.

ADDITIONAL INFORMATION:
Marie Rivera, Marketing Communications Specialist
Voice: 520-690-8632
eMail: Marie Rivera

More from Sensors, Monitors & Transducers